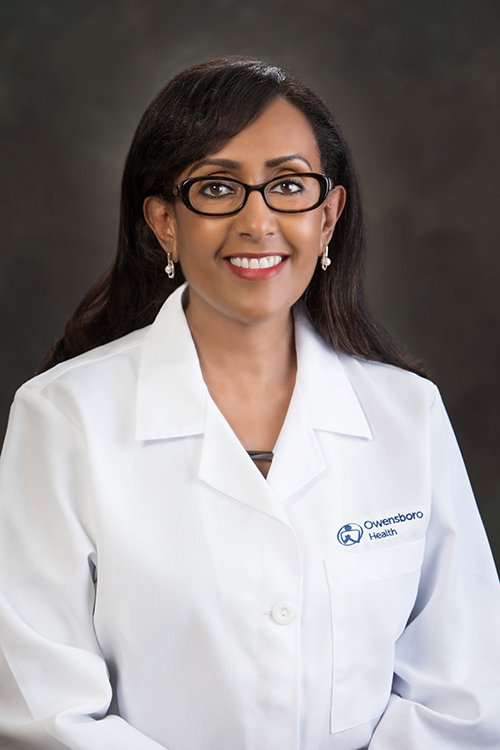 Tseday Sirak, MD, FACC, MPH, RPVI
Specializing in
Cardiology
Affiliation: Owensboro Health
Biography
Dr. Tseday Sirak is a board-certified cardiologist with Owensboro Health Medical Group – Cardiology. 
As a cardiologist, Dr. Sirak can diagnose and treat a wide variety of heart conditions. She can also refer patients for further specialist care if needed. Dr. Sirak has a particular interest in heart care for women of all ages. 
She was twice recognized with the Northern Virginia Top Doctor Award, earning this recognition in 2016 and 2017.
Education & Training
Education
University of South Florida

,

Master of Public Health in Epidemiology and Biostatistics

Medical School for International Health in Collaboration with Columbia University College of Physicians and Surgeons
Residency
Jacobi Medical Center

,

Internal Medicine
Fellowship
St. Luke's-Roosevelt Hospital Center

,

Cardiology
Board Certified
American College of Cardiology
National Board of Echocardiography
Additional Languages
Amharic
French
Hebrew
Spanish
Publications
Sirak TE, Jelic S, LeJemtel TH. Therapeutic update: Non-Selective beta and alpha-adrenergic blockade in patients with co-existent chronic obstructive pulmonary disease and chronic heart failure. J Am Coll Cardiol. 2004 Aug 4; 44(3):497-502.
Sirak TE, Bangalore S, Greenberg H, Frankenberger b. Management of Cocaine-Induced chest pain. Acute Coronary Syndrome; Multidisciplinary and PathwayBased Approach. 2008; Chapter 19.
Sirak TE, Daka M, Chiadika S, Simon Claude. Acute coronary syndromes in African Americans and Hispanic Amer.icans. Acute Coronary Syndrome; · Multidisciplinary and Pathway-Based Approach. 2008; Chapter 21.
Sirak, TE, Sherrid MV. Hypertrophic cardiomyopathy: A Review. Minerva Cardiologica, December 2008.