Published on March 29, 2021
Wet Your Whistle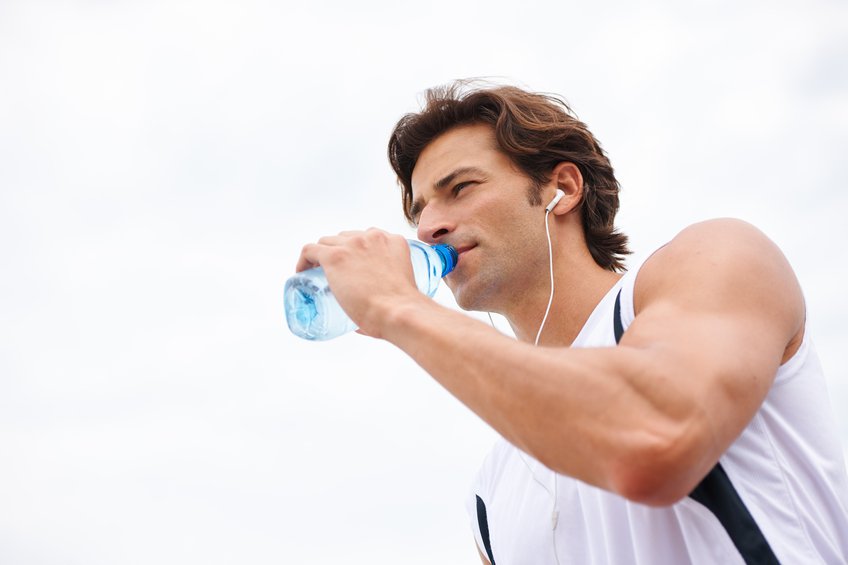 As a registered dietitian, I would like to think I know a lot about nutrition. But at the same time, I struggle with drinking enough water each day.
How about you? Because water is so simple and readily available, it is often overlooked when it comes to your health. Here are some fun facts about why we need to worry more about drinking enough.
First, your body is mostly made up of water. Our bodies use water for a whole host of reasons, such as regulating temperature, protecting organs and tissues and to help transport nutrients and oxygen around the body.
Second, you can only live a couple days without any type of water or hydration. In excessive heat during physically demanding work, you can actually die within hours if you become dehydrated and are not drinking any fluids. That's especially important since now that summer is in full swing you are at a greater risk of becoming dehydrated.
So let's test your knowledge first about dehydration. Then go over how to avoid it.
How quickly can you become dehydrated in hot, humid weather?

15 minutes
30 Minutes
45 minutes
1 hour

How often should you stop and drink during exercise or working outside?

Every hour
Every 2 hours
Every 45 minutes
Every 20 minutes

Which drink will dehydrate you the most?

Alcohol
Sports-drinks
Sugary punches and juices
Soda

Which factor does NOT affect how much fluid you need?

Age
Weather
Your health/medical conditions
Height

You can tell you are hydrated if your urine looks like…

Apple juice
Coke
Lemonade
Water

Which is not a sign of being dehydrated?

Thirst
Food cravings
Muscle cramps
Excessive sweating

Around what percentage of people do not meet their daily fluid needs?

50%
60%
75%
95%
How do you think you did? Here are the answers: 1 – B, 2 – D, 3 – A, 4 – D, 5 – C, 6 – D, 7 – C
The best thing about dehydration is that it is completely preventable. All you have to do is make sure to drink enough fluids each day and replace fluids lost during any physical activity. The average adult needs 8 to 12 cups of fluids a day to stay hydrated (1 cup = 8 ounces). Children between the ages of 4 and 18 years old need 5 to 6 cups a day and children 1 to 3 years old need around 4 cups a day.
During the summer, you can become dehydrated quickly during hot and humid days. Signs you might be dehydrated include feeling thirsty, weakness, dry mouth, dizziness, feeling of racing or jumping heart (palpitations), confusion, fatigue/sluggishness, decreased urine output or decreased sweating.
To avoid becoming dehydrated while working outside or enjoying the warm weather, try to stop and drink every 20 minutes. It is best to stick with water and you should turn to sports drinks only if you have to be outside for a prolonged time (more than two hours) performing intensive physical activities.
While you should try to avoid becoming dehydrated, it is important to know its warning signs and when to seek medical care. Extreme dehydration can be deadly. If you or anyone you are with experiences a fever over 103 degrees F, confusion, seizure, difficulty or rapid breathing, rapid pulse or haven't urinated in the past 12 hours, you should go to the nearest emergency room.
Drink up!
Emily Wilson is a registered and licensed dietitian at Owensboro Health Regional Hospital. She has her bachelor's and master's of science in dietetics from Ball State University. In the summer she loves spending time at Rough River Lake skiing, reading and relaxing.
This article originally appeared in the Owensboro Messenger-Inquirer.
About Owensboro Health
Owensboro Health is a nonprofit health system with a mission to heal the sick and to improve the health of the communities it serves in Kentucky and Indiana. The system includes Owensboro Health Regional Hospital, nationally recognized for design, architecture and engineering; Owensboro Health Muhlenberg Community Hospital; Owensboro Health Twin Lakes Medical Center; the Owensboro Health Medical Group comprised of over 200 providers at more than 20 locations; three outpatient Healthplex facilities, a certified medical fitness facility, the Healthpark; a surgical weight loss center and program, and the Mitchell Memorial Cancer Center.
On average each year, we have 16,000 inpatient admissions, deliver 2,000 babies and provide the region's only Level III NICU. Owensboro Health physicians perform nearly 24,000 surgical procedures, including nearly 200 open-heart surgeries. Our physicians and staff have 70,000 Emergency Department visits, more than a million outpatient visits annually. Visit our home page for more information.