Published on September 03, 2019
Owensboro Health to begin major renovation of Mitchell Memorial Cancer Center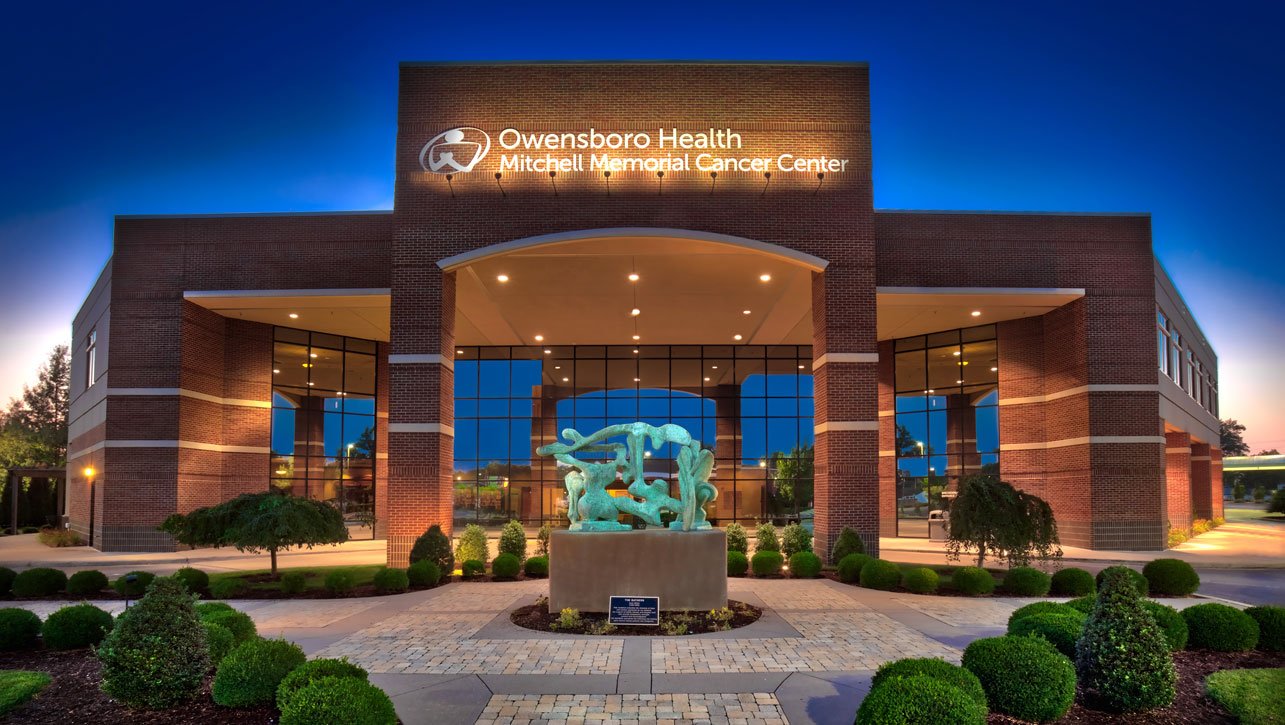 Owensboro Health's Mitchell Memorial Cancer Center will undergo a major renovation, with patient care and services continuing during the project.
The bulk of the renovation work will take place on the second floor of the center, enabling the center and the departments within to better serve patients. Joe Taylor, executive director of Facilities for Owensboro Health, said the renovation of the center is budgeted to cost $12.4 million and will take approximately 14 months to complete.
Check out our renovation progress page for photos, updates and timely information.
One phase at a time
Lisa Jones, VP of Ancillary Services, said renovating the cancer center reflects the system's commitment to quality, safety and patient experience.
"The Mitchell Memorial Cancer Center holds accreditations from several of the leading organizations in the country, including the American College of Surgeons, the American College of Radiology and the Joint Commission," Jones said. "We are always looking for ways to improve, and this renovation reflects our commitment to that goal."
Areas that will be improved at the cancer center include:
New space for Owensboro Health Oncology & Hematology (bringing that practice over from the Breckenridge Medical Building next door)
Renovated and expanded space for outpatient infusion clinic
Improved space for on-site lab and oncology pharmacy where cancer medications are prepared
Improved building infrastructure, including new electrical systems, backup generator, and updated HVAC systems
Updates to first floor areas, including main lobby and dressing rooms for patients receiving radiation therapy
New furniture, medical equipment and IT equipment in several areas
Planning for the renovation took two years. The extensive preparation means the renovation will be carried out in phases to minimize impacts to patients receiving care.
"The Mitchell Memorial Cancer Center is one of the health system's most important facilities and we know that patients rely on the center and its staff to provide care that saves and improves lives," Taylor said. "We want them to have an improved experience without an interruption to their care, and we're doing everything we can to make that a reality."
Safety first
Though the renovation will be extensive, safety has been the top priority at every step of the planning process.
"Patients who are receiving treatment for cancer are especially vulnerable to infections and other problems," Taylor said. "That's why we are taking all precautions to help ensure their safety throughout this renovation."
Safety precautions for the renovation include:
Demolition work limited to night hours when the center is not operating
Specialized dust barriers, air scrubbers and negative pressurization of the construction area (meaning that air can only flow into the work area, not out)
Separation of construction areas, including secured entrances, and separate entry/exit points, parking and restrooms for construction personnel
Multiple inspections each week by Owensboro Health Infection Prevention specialists, who will have the authority to stop work if they see any potential risk to patients
Required special healthcare construction training for contractors and personnel
Construction partners
Owensboro Health is proud to partner with the following businesses on this project:
CBRE Healthcare – Project management
HGA – Architecture and interior design
Smith Seckman Reid, Inc. – Plumbing, mechanical and electrical engineering
Turner Construction – General contractor
---
Contact: Brian Hamby, Director of Owensboro Health Marketing & Public Relations, (O) 270-685-7749, (C) 270-316-4274, Brian.Hamby@owensborohealth.org.
About Owensboro Health
Owensboro Health is a nonprofit health system with a mission to heal the sick and to improve the health of the communities it serves in Kentucky and Indiana. The system includes Owensboro Health Regional Hospital, nationally recognized for design, architecture and engineering; Owensboro Health Muhlenberg Community Hospital; Owensboro Health Twin Lakes Medical Center; the Owensboro Health Medical Group comprised of over 200 providers at more than 20 locations; three outpatient Healthplex facilities, a certified medical fitness facility, the Healthpark; a surgical weight loss center and program, and the Mitchell Memorial Cancer Center.
On average each year, we have 16,000 inpatient admissions, deliver 2,000 babies and provide the region's only Level III NICU. Owensboro Health physicians perform nearly 24,000 surgical procedures, including nearly 200 open-heart surgeries. Our physicians and staff have 70,000 Emergency Department visits, more than a million outpatient visits annually. Visit our home page for more information.