Published on July 26, 2022
Eight Students Graduate From MLS Program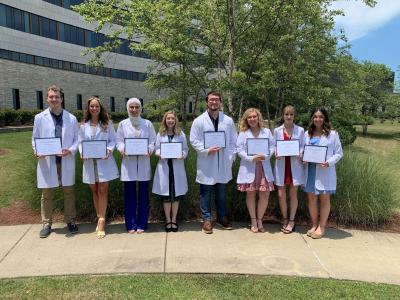 Eight students recently graduated from Owensboro Health's Medical Laboratory Science Program, a 12-month-long internship where students work and learn in the hospital laboratory as they finish their bachelor's degrees. This graduating class includes: Jeremiah Oakes and Autumn Wilson of Brescia University; Octaivia Brown of Kentucky Wesleyan College and Mallak Aldarawish, Trenton Matlock, Hayley Roche, Rachel Paugh and Kaylee Roberts of Western Kentucky University.
Jeremiah, Octaivia, Autumn and Rachel have accepted full time positions as Medical Laboratory Scientists in the Laboratory at Owensboro Health Regional Hospital and we are excited to welcome them to the team!
Certified by the National Accrediting Agency For Clinical Laboratory Sciences, the Owensboro Health Medical Laboratory Science Program could be the perfect place to finish your degree and launch your career. Want to learn more? Visit https://www.owensborohealth.org/services/laboratory-services/medical-laboratory-science-program.
About Owensboro Health
Owensboro Health is a nonprofit health system with a mission to heal the sick and to improve the health of the communities it serves in Kentucky and Indiana. The system includes Owensboro Health Regional Hospital, nationally recognized for design, architecture and engineering; Owensboro Health Muhlenberg Community Hospital; Owensboro Health Twin Lakes Medical Center; the Owensboro Health Medical Group comprised of over 200 providers at more than 20 locations; three outpatient Healthplex facilities, a certified medical fitness facility, the Healthpark; a surgical weight loss center and program, and the Mitchell Memorial Cancer Center.
On average each year, we have 16,000 inpatient admissions, deliver 2,000 babies and provide the region's only Level III NICU. Owensboro Health physicians perform nearly 24,000 surgical procedures, including nearly 200 open-heart surgeries. Our physicians and staff have 70,000 Emergency Department visits, more than a million outpatient visits annually. Visit our home page for more information.