Medical Laboratory Science Program
As a participant in the Medical Laboratory Science Program at Owensboro Health, you will work side-by-side with talented and dedicated research professionals. Get ready for serious lab coat time in one of the state's only hospital-based programs.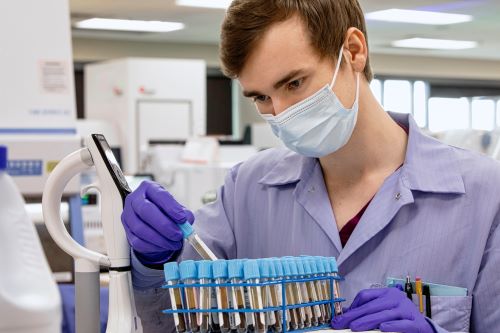 Over a million tests performed in our laboratory each year
A faculty that includes board-certified pathologists
Limited class size for personalized attention
12-month program
A brand-new, state-of-the-art hospital
Certified by the National Accrediting Agency For Clinical Laboratory Sciences, the Owensboro Health Medical Laboratory Science Program could be the perfect place to finish your degree and launch your career. Consider some of our program's most recent results:
Graduation Rate:
2021: 100%
2020: 100%
2019: 100%
First Time Pass Rate:
2021: 83%
2020: 100%
2019: 75%
Attrition Rate:
2021: 0%
2020: 0%
2019: 0%
Placement Rate:
2021: 100%
2020: 100%
2019: 100%
More About The MLS Program
Overview
Quick Facts
The program is conducted in the hospital laboratory.
The program accepts up to six students per year, with the possibility of variance depending on the quantity and quality of applicants.
The Program Director and all clinical instructors are certified by a national certifying agency.
About Owensboro Health
Owensboro Health is a licensed 477-bed full-service facility. It maintains accreditation from the Joint Commission on Accreditation of Healthcare Organizations, as well as the American Association of Blood Banks. The laboratory at Owensboro Health is equipped with excellent teaching facilities.
Goals, Mission and Values
Program Goals
The goals of the of the OHRH Medical Laboratory Science Program are to: Collaborate with other educational institutions in providing opportunities for Medical Laboratory Science education.
Provide competent medical technologists for the tri-State area of Western Kentucky, Southern Indiana, and Southern Illinois.
Offer the opportunity for each graduate to attain entry level success in the profession of Medical Laboratory Science.
Contribute to the body of knowledge in the field of Medical Laboratory Science.
Provide an opportunity for each student to develop to his/her maximum potential.
Contribute to the continued development and expansion of the field of Medical Laboratory Science.
Promote the team concept in health care.
Provide a curriculum with a knowledge/skills base for future growth of graduates.
Program Mission
The mission of the OHRH MLSP is to anticipate the healthcare needs of the community and respond by recruiting and educating a diverse group of quality laboratory professionals, while fostering collaborative relationships that generate new knowledge through innovative methodologies, research, and education.
Program Vision
The vision of the OHRH MLSP is to enhance the community of healthcare through the quality of our graduates, scholarly activities, collaborative efforts and community interactions.
The Clinical Year
About the Clinical Year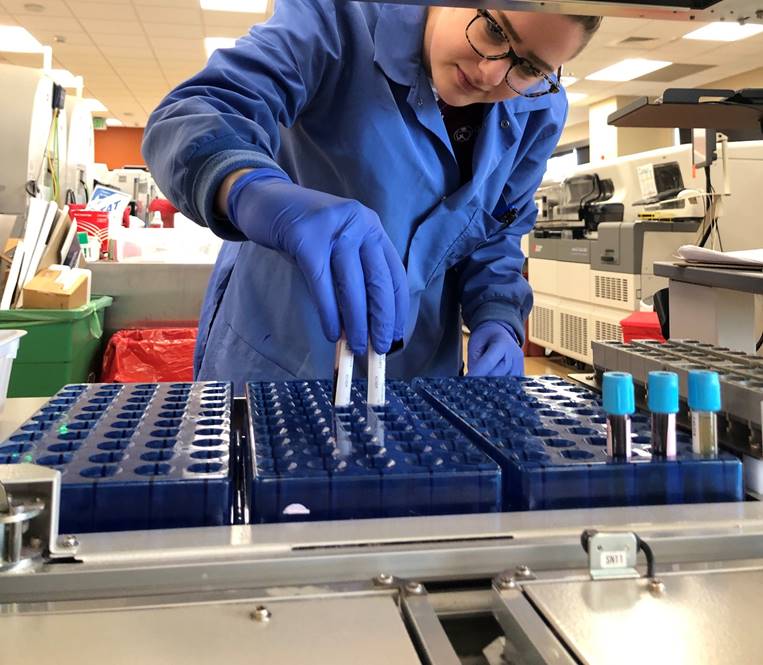 12 consecutive months
Two weeks vacation, seven holidays.
Runs mid-July to late June of the following year
Student's expected present Monday - Friday, 7 a.m. - 3 p.m.
Class Time & Clinical Rotation
The first six weeks are spent in lecture all day, in order to give the student the necessary theory to apply in the clinical rotations. After the first six weeks, students spend mornings in the clinical rotation and afternoons in lectures.
All clinical rotations and lectures are taught by either a certified medical technologist or pathologist.
Completion of the Clinical Year
Upon completion of the clinical year, students graduate with a certificate, and are awarded credit hours and a Bachelor's degree by the college or university, where applicable.
Student Handbook
A copy of the student handbook is available upon written request to MLSP@owensborohealth.org.
Tuition
Expenses & Fees
Tuition = $1500.00 per year
Textbooks = approximately $800.00
Uniforms and a lab coat are required
Students must supply proof of health and liability insurance prior to the start of the program.
No stipends are offered. Should a student not complete the clinical year, tuition will be refunded on a prorated basis.
Admission Requirements
Our program is affiliated with Brescia University, Campbellsville University, Kentucky Wesleyan College, Southeast Missouri State University, Western Kentucky University, and University of Southern Indiana. Students who have a Bachelor's degree may also apply, but preference is given to students from our affiliated colleges.
A minimum grade point average of 2.5 is required.
Preference is given to students from our affiliated schools.
This program will not discriminate in the nomination, selection and training because of race, creed, color, national origin, gender, or disability.
Minimum admission requirements are 90 semester hours of college credit including:
Chemistry: A minimum of 16 semester hours. Organic chemistry must be included. Quantitative Analysis is recommended.
Biological Sciences: A minimum of 16 semester hours. Microbiology is required. Immunology, Genetics and Anatomy & Physiology are strongly recommended.
Mathematics: One course in mathematics is required. A course in Probabilities & Statistics is recommended.
Application And Interview Process
When To Apply
Apply upon completion of all coursework.
Application deadline is December 15.
Contact the Program Director, Carrie Wimsatt for an application or more information. Reach her through email at MLSP@owensborohealth.org or call 270-417-6521.
Write to:
Program Director
Medical Laboratory Science Program
Owensboro Health
PO Box 20007
Owensboro, Kentucky 42304-0007
The Interview Process
Upon receipt of a completed application, a transcript, and reference letters, all qualified applicants will be called for a personal interview, which is required.