Published on January 03, 2022
Fall Semester Vicki M. Stogsdill Nursing Award Recipient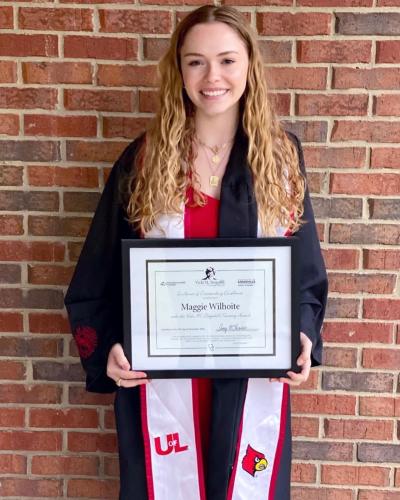 Maggie Wilhoite is this year's Fall Vicki M. Stogsdill Nursing Award recipient.
Maggie's healthcare career has been a long time coming. When she was in third grade, she told her mother she was going to be a nurse.  "I must be extremely stubborn because that goal never changed," she said. "My decision was influenced by my interest in medical mission work. In high school, I started planning and diligently working toward my goal of becoming a registered nurse. Someday, I hope to engage in medical missions."
Inspired by healthcare workers who have cared for her cousin with cystic fibrosis and her grandmother with dementia, Maggie chose to work in healthcare because she knew she would have the potential to make a difference in the lives of others. "I want to be a part of something bigger than myself and give back to others," she said. "I want to create a positive impact."
In January, she will start her new role in the Cardiac Step-Down Unit at Owensboro Health Regional Hospital. "I loved the clinical experiences I had on the unit in nursing school, and I have no doubt I will enjoy working for Owensboro Health," Maggie said.
The nursing student was honored to win this semester's award.
"I am shocked I won," she said. "I have the utmost respect for all my classmates. Any person in our cohort is more than deserving of this award. We survived the rollercoaster of nursing school during a historically adverse time in healthcare. I know each of us will grow to be resilient nurses who lead by serving others. I am excited, honored, and grateful to receive this award."
For Maggie, completing nursing school and earning this award rank among her highest accomplishments.
"I could not have done it alone," she said. "There are many people and experiences that have helped guide me. I am humbled to have the opportunity to give back to the community that has helped shape me into the person I am today. I am thrilled to be joining one of the most respected professions in the world."
Like so many nurses - including Vicki M. Stogsdill - she hopes to continue exhibiting servant leadership qualities throughout her career.
The award was presented to Maggie at a senior celebration event on December 13. 
Click here to learn more about the Vicki M. Stogsdill Nursing Award and its application process.
For more information on the nursing program go to https://www.owensborohealth.org/choose/uofl-bachelor-of-science-in-nursing-bsn-program.
About Owensboro Health
Owensboro Health is a nonprofit health system with a mission to heal the sick and to improve the health of the communities it serves in Kentucky and Indiana. The system includes Owensboro Health Regional Hospital, nationally recognized for design, architecture and engineering; Owensboro Health Muhlenberg Community Hospital; Owensboro Health Twin Lakes Medical Center; the Owensboro Health Medical Group comprised of over 200 providers at more than 20 locations; three outpatient Healthplex facilities, a certified medical fitness facility, the Healthpark; a surgical weight loss center and program, and the Mitchell Memorial Cancer Center.
On average each year, we have 16,000 inpatient admissions, deliver 2,000 babies and provide the region's only Level III NICU. Owensboro Health physicians perform nearly 24,000 surgical procedures, including nearly 200 open-heart surgeries. Our physicians and staff have 70,000 Emergency Department visits, more than a million outpatient visits annually. Visit our home page for more information.