UofL Bachelor of Science in Nursing (BSN) Program

The Bachelor of Science in Nursing (BSN) program offers students a dynamic course of study that is both theoretical and practical. The program addresses the complex health care needs of diverse and dynamic populations through nursing education, research, scholarship and service.
New cohorts begin each summer, fall and spring semester.
Visit our Career Advancement page to learn about tuition reimbursement and our educational assistance program.
Partners in Health
Since 2009, the University of Louisville has partnered with Owensboro Health Regional Hospital to provide local students an opportunity to pursue a bachelor's degree in nursing while remaining close to home.
BSN Program Structure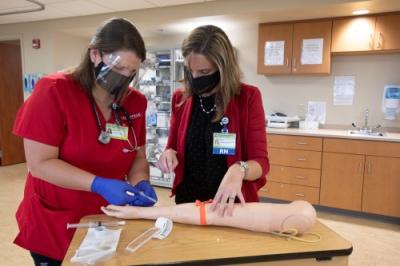 Lower Division: The first two years of the program consist of general education courses and program requirements. These courses may be completed at any regionally accredited university and are subject to official evaluation by UofL. Students must initially apply to Lower Division nursing with a minimum 2.8 cumulative undergraduate GPA.
Upper Division: The final two years of the program consist of nursing courses and clinical work. Students have learning experiences in a variety of clinical settings, including Owensboro Health Regional Hospital, shelters, community agencies, community clinics, and long-term care facilities. Students must be in good standing with all facilities where clinical will be completed. Students applying to Upper Division must have a 2.8 minimum cumulative undergraduate and a 3.0 minimum program (prerequisites) GPA.
Accelerated Second-Degree BSN
The new accelerated second-degree is a hybrid program that prepares students with a bachelor's degree in another field who desire a career in nursing. Students will have joint online courses with Louisville campus students; all clinical will be in the Owensboro area.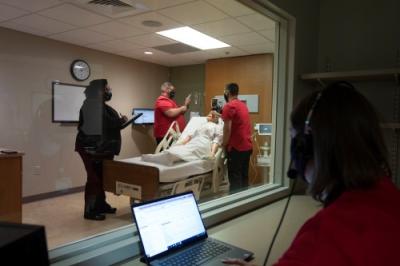 Program Features
Four-semesters (15-months) full-time program with courses beginning in summer term (May)
Variety of clinical experiences in regionally and nationally recognized health care agencies
Outstanding faculty with teaching and practice expertise
Opportunities to collaborate with faculty who have diverse research interests
State-of-the-art simulation laboratories with certified simulation faculty
Graduates of the BSN program will be prepared to:
Demonstrate excellence in nursing science, practice and leadership in a variety of settings.
Take the National Council Licensure Examination for Registered Nurses (NCLEX).
Build on the foundation provided by the BSN in a master's and/or doctoral degree level nursing program.
An Accredited Program
The Bachelor of Science in Nursing Program at the University of Louisville is accredited by the Commission on Collegiate Nursing Education (CCNE) , 655 K Street, NW, Suite 750, Washington, DC 20001, 202-887-6791.
Additional Resources
Contact Information
Office of Student Services
Phone: 502-852-1196
Fax : 502-852-8783
School of Nursing website:
louisville.edu/nursing
Owensboro Extension
Phone: 270-688-1051
Fax: 270-688-5112
Admissions Counselor email: owensboronursing@louisville.edu
Tuition reciprocity is available to residents of the following Indiana counties for enrollment in the Owensboro Extension: Vanderburgh, Warrick, Spencer and Perry.
The University of Louisville is an equal opportunity institution and does not discriminate against persons on the basis of race, age, religion, sex, disability, color, sexual orientation, national origin or veteran status. This publication was prepared by the University of Louisville and printed with state funds KRS 57.375.