Published on December 06, 2022
OHRH Launches Communication Tool For Emergency Department Patients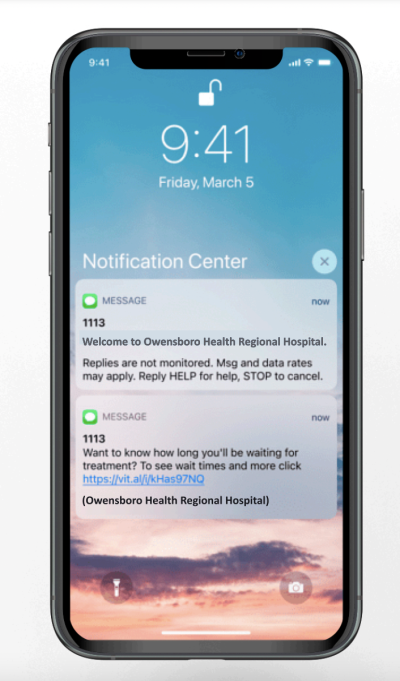 The Emergency Department at Owensboro Health Regional Hospital is launching a new tool to improve patient experiences — a mobile platform that will help patients stay updated throughout their visit.
"Owensboro Health is always looking for innovative ways to improve the patient experience," said Chris Sale, Owensboro Health Regional Hospital Vice President of Operations. "The more we can communicate with patients about their visit, the better for everyone involved. This service is just one way we're committed to providing excellent patient care."
ERAdvisor automatically updates patients throughout their emergency department (ED) visit with up-to-the-minute wait times, secure sharing with family and friends, as well as lab and imaging information. No sign-up or app download is needed, and it works with all smartphones.
Registration staff collects the patient's cell phone number during check-in, and this triggers a welcome message for them to join ERAdvisor. Patients can then click on the link to log in to ERAdvisor using their last name.
Once in the system, patients can:
See estimated wait times on when they'll be moved to a treatment room
Keep friends and family informed at every step of their visit by sharing a link
Get answers to common questions
Get updates on the status of their lab results
"While we don't want to have any patient wait for emergency services, the fact of the matter is that there is frequently a wait time in our Emergency Department," Rhonda Bergstrom, Director of Nursing, said. "This type of software helps keep the patient up to date, step by step, through the emergency process. It helps the patient know what to expect. It also allows them to share the information with family or friends, so they are not left in the dark."
ERAdvisor has been shown to improve the patient experience, with a 97% satisfaction rate in patients that use it.
"I think this will definitely improve the patient experience," Bergstrom said. " We know from data, that not only in our ED, but in EDs across the nation, we struggle to keep patients up to date on where they are in the process, especially in the waiting room. This software will improve that communication, giving real-time updates."
The new software should also prove helpful to team members who monitor the ED lobby.
"When the waiting room is full, it is difficult for the team members to keep everyone up to date and watch for clinical changes," she said. " This software will help keep patients and families up to date so the team members can focus on clinical tasks. The software also uses artificial intelligence to update wait times, laboratory processing times and radiology times. Those are things our team members are not equipped to do when they are focused on patient care. This gives the patient a more accurate estimate of wait times."
Dr. Michael Kelley, Owensboro Health Vice President of Medical Affairs, said there have been changes to healthcare staffing and expectations nationally as a consequence of the COVID-19 pandemic, and emergency departments have had to adapt and change tremendously.
"The volume of patients presenting to our Emergency Department and how sick they are have both increased," he said. "The manner in which we take care of them with added layers of PPE, screening, crowd control and more stringent goals for the time-sensitive treatment of our sickest groups of patients — trauma, stroke, sepsis and myocardial infarction — have become even more demanding."
" Our team members in the Emergency Department have been very resilient," he continued. "A new normal and a new set of benchmarks for Emergency Departments have been created these last few years, and the ability to care for everyone has been stressed."
To rise to the challenge, Owensboro Health leadership has spent the last year working to improve staffing ratios of physicians in the Emergency Department to some of the highest in the industry and planning for a physician in triage, where the provider comes to the patient prior to them being roomed during peak times. "The Vital ERAdvisor platform is another piece of our innovative approach to help alleviate these pressures," Dr. Kelley said. " We are using this software as a service. Its augmented intelligence helps create a clearer picture and provides real-time expectations, as well as some education to those who come to our Emergency Department — the front door of Owensboro Health Regional Hospital."
The software is expected to launch on December 6 at Owensboro Health Regional Hospital and is planned to expand to OHTLMC and OHMCH soon after. To learn more, visit OwensboroHealth.org/ERAdvisor.
About Owensboro Health
Owensboro Health is a nonprofit health system with a mission to heal the sick and to improve the health of the communities it serves in Kentucky and Indiana. The system includes Owensboro Health Regional Hospital, nationally recognized for design, architecture and engineering; Owensboro Health Muhlenberg Community Hospital; Owensboro Health Twin Lakes Medical Center; the Owensboro Health Medical Group comprised of over 350 providers at more than 30 locations; three outpatient Healthplex facilities, a certified medical fitness facility, the Healthpark; a surgical weight loss center and program, and the Mitchell Memorial Cancer Center.
On average each year, we have more than 19,000 inpatient admissions, deliver 2,000 babies and provide the region's only Level III NICU. Owensboro Health physicians perform nearly 33,000 surgical procedures, including nearly 150 open-heart surgeries. Our physicians and staff have 90,000 Emergency Department visits and more than 1.25 million outpatient visits annually. Visit our home page for more information.