Published on May 23, 2022
Spring Semester Vicki M. Stogsdill Nursing Award Recipient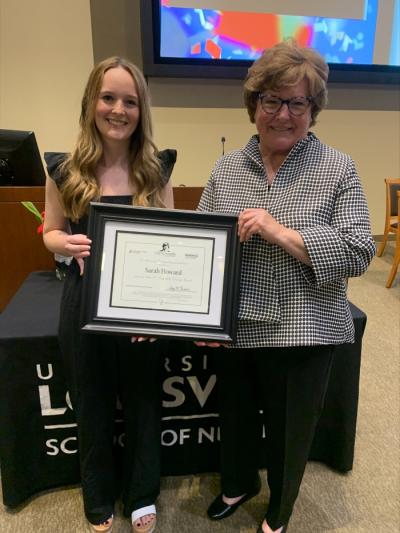 Sarah Howard is this year's Spring Vicki M. Stogsdill Nursing Award recipient.
Howard chose to work in healthcare because of the potential of making a difference in someone's life. "I want to be a part of something bigger than myself and leave a positive impact on people in need," she said. "Nursing is so rewarding, and I knew that's a career I wanted to have."
Being a nurse is a life-long dream for Howard, who paved her own path along the way. In high school, she started taking courses through Owensboro Community and Technical College and earned her CNA license. After graduation, she attended OCTC to complete her prerequisites and graduated with several associate degrees. Howard encountered some "roadblocks" as she pursued her nursing career, so she decided to continue her education at Western Kentucky University-Owensboro and graduated with a Bachelor of Health Science Degree in 2015. Unsure if a career in nursing would be possible, she accepted a full-time position at CVS pharmacy, working there for several years before applying to the University of Louisville-Owensboro nursing program, from which she'll graduate in May. "This is my second chance to pursue a career I was meant to do," Howard said.
She's worked in her pharmacy position for eight years - a role that's allowed her to grow and connect with the community.
"I am excited to continue serving my community by starting my new role at Owensboro Health Regional Hospital in the Surgical-Pediatric unit," she said.  "Pediatrics has always been an interest of mine and I enjoyed the clinical rotation at Owensboro Health while I was in nursing school."
 The nursing student was honored to win this semester's award.
"I cannot put into words how grateful and appreciative I am to have won this award," Howard said. "I'm still in shock that my name was announced! I feel any person in my cohort was the utmost deserving of this award, and I will forever be honored for this recognition."
To Howard, this award has demonstrated that hard work truly pays off. "This was not an easy ride to get where I am today, but I did it," she said. "I am excited to start this new chapter of mine and pursue the dream I always had of becoming a nurse. I couldn't have done this without the love and support from my fiancé John, my family and friends."
 The award was presented to Howard at a Senior Celebration on May 5, 2022.
Click here to learn more about the Vicki M. Stogsdill Nursing Award and its application process.
For more information on the UofL BSN program right here in Owensboro, click here.
About Owensboro Health
Owensboro Health is a nonprofit health system with a mission to heal the sick and to improve the health of the communities it serves in Kentucky and Indiana. The system includes Owensboro Health Regional Hospital, nationally recognized for design, architecture and engineering; Owensboro Health Muhlenberg Community Hospital; Owensboro Health Twin Lakes Medical Center; the Owensboro Health Medical Group comprised of over 200 providers at more than 20 locations; three outpatient Healthplex facilities, a certified medical fitness facility, the Healthpark; a surgical weight loss center and program, and the Mitchell Memorial Cancer Center.
On average each year, we have 16,000 inpatient admissions, deliver 2,000 babies and provide the region's only Level III NICU. Owensboro Health physicians perform nearly 24,000 surgical procedures, including nearly 200 open-heart surgeries. Our physicians and staff have 70,000 Emergency Department visits, more than a million outpatient visits annually. Visit our home page for more information.