Published on January 03, 2023
Fall Semester Vicki M. Stogsdill Nursing Award Recipient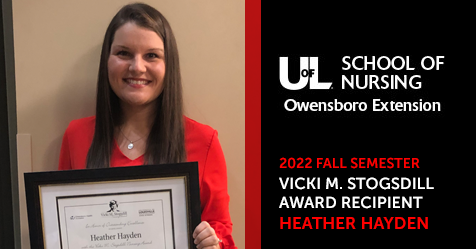 Heather Hayden is this year's Fall Vicki M. Stogsdill Nursing Award recipient.
Growing up, Heather knew she wanted to work in healthcare or teaching. She pursued a career in elementary education, but she got a closer look at the impact made by healthcare workers when her great-grandmother became ill.
"Throughout college, I helped care for my mamaw," she said. "It was a hard job at times, but I loved being the one she could count on – especially when she felt helpless and vulnerable," Heather said. When her great-grandmother was in the hospital, she saw nurses who cared for her as if she was their own grandmother, as well as ones who were taxed by her needs. "Seeing both attitudes from nurses helped inspire me to become one," Heather said. "I feel that every patient deserves the care that my mamaw deserved."
Her great-grandmother passed away at the age of 96, just six months before Heather's first college graduation.
Fast forward a few years, and Heather's desire to go into the medical field is still burning. At age 33, as a wife and mom of three, she's starting a new career as a graduate of the University of Louisville – Owensboro. "I would like to give credit to my mamaw for fueling my passion and desire to care for others in their time of need," she said.
"I want to work in healthcare so that I can make a difference in the lives of others, specifically by serving others during their time of vulnerability," Heather added. "I want to be a light to those who may be going through a season of darkness."
She's spent the last two and a half years doing just that, working as a CNA at Owensboro Health Regional Hospital's Behavioral Health Unit. In January, she'll begin her nursing career in the Neonatal Intensive Care Unit (NICU) at OHRH.
"I loved my clinical experience in the NICU during nursing school, and I can't wait to start working my dream job," she said.
The nursing student was honored to win this semester's award.
"Winning this award was overwhelming and left me speechless," Heather said. "I have been involved in community service since I was 12 years old. I have never expected or needed any kind of recognition. I do what I do because I enjoy it, and it makes me feel good inside. Just being considered for this award is an incredible honor, as there are so many deserving students in my class. It is extremely humbling to be selected."
Heather says that as a first-generation college student, this means she's beat the odds.
"With hard work and perseverance, anything is possible," she said. "I have created my own success story, which would not have been possible without the love and support of my husband, Zack Hayden, my three children, Annabelle, Benjamin and Katherine, and my parents, Pam and Todd May." 
Heather plans to continue being involved in the community and serving others. "It is my goal to be the nurse and servant leader that Vicki M. Stogsdill was," she said.
The award was presented to Heather at a senior celebration event on December 12. 
Click here to learn more about the Vicki M. Stogsdill Nursing Award and its application process.
For more information on the nursing program go to https://www.owensborohealth.org/choose/uofl-bachelor-of-science-in-nursing-bsn-program.
About Owensboro Health
Owensboro Health is a nonprofit health system with a mission to heal the sick and to improve the health of the communities it serves in Kentucky and Indiana. The system includes Owensboro Health Regional Hospital, nationally recognized for design, architecture and engineering; Owensboro Health Muhlenberg Community Hospital; Owensboro Health Twin Lakes Medical Center; the Owensboro Health Medical Group comprised of over 200 providers at more than 20 locations; three outpatient Healthplex facilities, a certified medical fitness facility, the Healthpark; a surgical weight loss center and program, and the Mitchell Memorial Cancer Center.
On average each year, we have 16,000 inpatient admissions, deliver 2,000 babies and provide the region's only Level III NICU. Owensboro Health physicians perform nearly 24,000 surgical procedures, including nearly 200 open-heart surgeries. Our physicians and staff have 70,000 Emergency Department visits, more than a million outpatient visits annually. Visit our home page for more information.