Published on September 22, 2023
Top-tier NCI Status Means Access to Quality Cancer Care for Owensboro Health Patients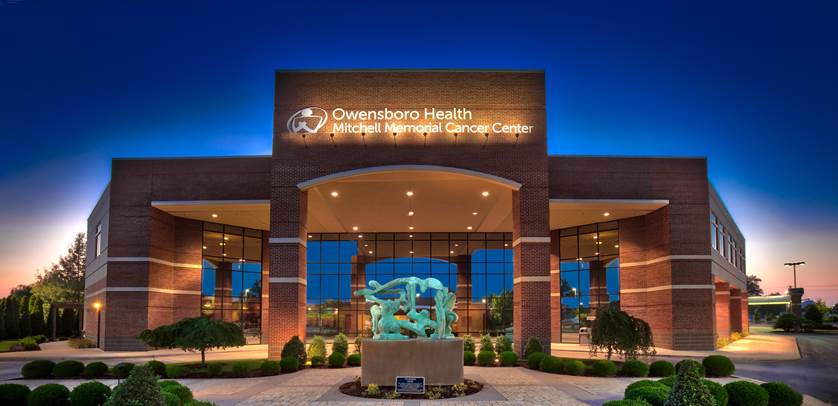 LEXINGTON, Ky. (Sept. 15, 2023) -- The University of Kentucky Markey Cancer Center announced today that it has earned a National Cancer Institute "Comprehensive" Cancer Center designation, the highest level of recognition awarded by the NCI. There are currently only 56 NCI-Designated Comprehensive Cancer Centers in the country, and Markey is the first and only center in Kentucky to achieve this designation. As part of the Markey Cancer Center Affiliate and Research Networks, Owensboro Health Mitchell Memorial Cancer Center's patients have access to the best new treatment options and priority clinical trials and get the benefit of Markey's guidance and support in their care while staying closer to home for treatment.
As the federal government's principal agency for cancer research and training, the NCI awards designations based on excellence in cancer treatment, diagnosis and prevention. Markey received an initial NCI designation in 2013.
To become an NCI-Designated Comprehensive Cancer Center, centers must demonstrate added depth and breadth of laboratory, clinical and population-based research, including substantial transdisciplinary research that bridges these scientific areas. Comprehensive Cancer Centers are also recognized for cancer research and control programs that benefit the communities they serve, and programs to educate and train the next generation of cancer researchers and clinicians.
"NCI designation in 2013 was an important milestone, but not the final destination. The elevation to Comprehensive Cancer Center is an achievement that underscores our commitment to addressing the health care needs of the people of Kentucky, a state burdened by the highest cancer incidence and death rates in the nation," said UK Markey Cancer Center Director B. Mark Evers, M.D. "As a Comprehensive Cancer Center, we are strengthened in our mission to lead the charge against cancer through groundbreaking research, innovative treatments and outreach efforts to bring vital resources and care to every corner of Kentucky. Together, we will turn the tide against this disease to conquer cancer in the Commonwealth."
Through collaboration with community hospitals, Markey's Affiliate and Research Networks give more patients access to high-quality cancer care, best treatment options and access to the latest clinical trials.
"NCI designation as a Comprehensive Cancer Center positions Markey at the forefront of cancer research and care," said Timothy W. Mullett, M.D., medical director of network operations for Markey. "Markey's Affiliate and Research Networks play a pivotal role in ensuring that every Kentuckian can access world-class, multidisciplinary cancer care that Markey delivers right here in the Commonwealth."
Owensboro Health is one of 19 Markey Affiliates and six Research collaborators across Kentucky.
In addition to achieving NCI Comprehensive designation, the UK Markey Cancer Center was awarded $13.5 million through a five-year renewal of its NCI Cancer Center Support Grant to support research programs, shared equipment, and resources.
The elevation to an NCI-Designated Comprehensive Cancer Center will further enhance Markey's ability to attract top-tier researchers and clinicians, secure additional research funding, collaborate with national and international partners, and give patients access to leading-edge treatments and clinical trials – resulting in better patient care and health outcomes for Kentuckians.
Research-driven care is a hallmark of a Comprehensive Cancer Center, and it plays a significant role on patient outcomes. Numerous studies show that patients treated at NCI-Designated Comprehensive Cancer Centers have better survival and recovery rates. Comprehensive designation also ensures Markey patients – 97% of whom come from Kentucky – get access to new drugs, treatment options and clinical trials offered only at NCI-designated centers.
About Owensboro Health
Owensboro Health is a nonprofit health system with a mission to heal the sick and to improve the health of the communities it serves in Kentucky and Indiana. The system includes Owensboro Health Regional Hospital, nationally recognized for design, architecture and engineering; Owensboro Health Muhlenberg Community Hospital; Owensboro Health Twin Lakes Medical Center; the Owensboro Health Medical Group comprised of over 350 providers at more than 30 locations; three outpatient Healthplex facilities, a certified medical fitness facility, the Healthpark; a surgical weight loss center and program, and the Mitchell Memorial Cancer Center.
On average each year, we have more than 19,000 inpatient admissions, deliver 2,000 babies and provide the region's only Level III NICU. Owensboro Health physicians perform nearly 33,000 surgical procedures, including nearly 150 open-heart surgeries. Our physicians and staff have 90,000 Emergency Department visits and more than 1.25 million outpatient visits annually. Visit our home page for more information.