Support Groups
Several support groups are offering virtual options. Please check our cancer support page and surgical weight loss support group schedule for more details about how to attend.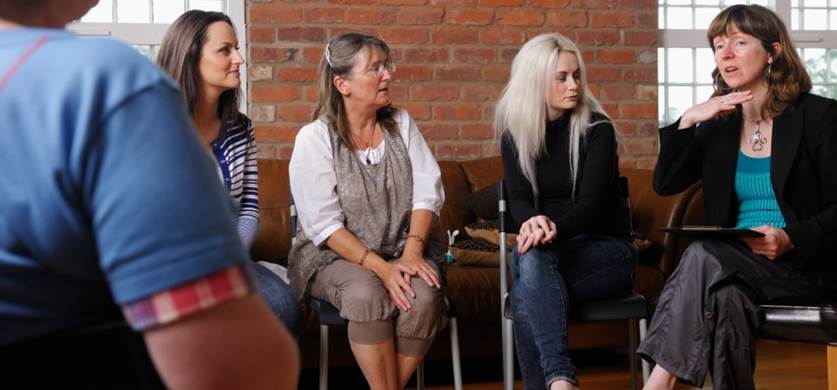 Owensboro Health is proud to host the following education and support groups to promote healing, hope, and health in our community.
Cancer Support
Stronger Together: Uniting for the Journey (In-person and virtual) – Anyone with previous or current cancers, ALL are welcome. RSVP not required. Find details about this support group and more support options at OwensboroHealth.org/CancerSupport
Chemotherapy: Patient Education
As a new patient in our office, you are invited to a 60-minute informative session: partnering with you to improve your treatment experience.
Meets every Tuesday from 2 - 3 p.m.
Location: 1000 Breckenridge Street, Suite 200 Owensboro, KY 42303
Call 270-688-3445 to reserve your spot.
What You Will Learn
You will gain an overview of:
Chemotherapy and biotherapy
How the medication is given
Potential side effects and how best to manage them
We also provide additional resources both at Owensboro Health and in our community that may further assist you.
Diabetes Support Group
Location: Healthpark - Classroom B
Address: 1006 Ford Avenue Owensboro, KY 42301
Come to learn more about managing your diabetes and to meet others dealing with diabetes.
Questions? Call 270-688-4804.
2023/2024 Schedule
This group meets at noon on every third Tuesday of the month.
November 21, 2023
December: No meeting
2024:
January 16
February 20
March 19
April 16
May 21
June 18
July 16
August 20
September 17
October 15
November 19
December: No meeting
Huntington Disease Support Group
Meets on Sundays, bi-monthly.
Location: Healthpark Classroom A
Address: 1006 Ford Avenue Owensboro, KY 42301
Provides information and support to patients and families regarding Huntington's Disease.
2023 Meeting Dates (2 to 4 p.m. Central Time)
February 5
April 2
June 4
August 6
October 1
December 3
Please RSVP, Cathy Saliga, HDSA Social Worker at 502-637-4372 or csaliga@hdsa.org. Meetings may be canceled due to low response or inclement weather.
(Pulmonary) Better Breathers Club
Offers patient-centered and community based educational opportunities and support to persons with chronic lung disease. First Wednesday of each month from Noon – 1 p.m. in the Healthpark West Concourse.
Address: 1006 Ford Ave. Owensboro, KY 42301
Contact: Owensboro Health Heart and Lung Rehab at 270-688-5155.
Stroke Support Group
Meets the second Tuesday of every month.
6 - 7:30 p.m.
Location: Healthpark Classroom B
Address: 1006 Ford Avenue Owensboro, KY 42301
Support group for stroke survivors and their families.
Contact: Stroke Clinical Program Specialist at 270-417-2413
2023 Meeting Dates
July 11: Group Networking
August 8: Jennie Boggess, Movement and Dance Therapy
September12: Caroline Henderson, Fall Prevention
October 10: Travis Williams, Emotional Wellness
November 14: Randy Lanham, Music Therapy with Banjoleles
December 12: Christmas Party
Surgical Weight Loss