Published on February 10, 2020
Are you good to your heart?

February is American Heart Month. "Are you good to your heart?" After all, cardiovascular disease is the number one killer of both men and women.
You can arm yourself against this deadly disease by following a healthy diet and lifestyle. In fact, healthy eating may be one of your better defenses.
One option for healthy eating is the Mediterranean-style of eating. Gaining popularity over the past several years, the Mediterranean-Style Eating Pattern has even earned itself a spot in the 2015-2020 Dietary Guidelines. Studies have shown that traditional Mediterranean-style eating can reduce the risk of heart disease.
The Mediterranean style of eating is not a single plan, but instead a guide that emphasizes plant-based foods, fish, healthy oils and smaller amounts of meat and dairy. It also focuses on foods you can eat.
The basic Mediterranean-style eating plan includes:
Whole grains, vegetables and fruits are served at most meals, with fruits eaten as desserts
Olive oil as the principal source of dietary fat used for baking and cooking
Nuts, beans, legumes and seeds, eaten as a good source of protein, healthy fat and fiber
Herbs and spices used to season dishes instead of salt
Fish and shellfish consumed for protein and lean cuts of meats, eaten in small portions
Red wine consumed in moderation, if appropriate
Many foods included in the Mediterranean-style eating plan also contain cholesterol-lowering properties, a point worth mentioning during American Health Month.
Are you looking to get started on a heart-healthy eating plan? Try some heart-healthy recipes this weekend. Here are a few to get you started.
Recipes
Edamame Pasta Salad
Ingredients
4 ounces dried multigrain pasta, such as penne
1-16 ounce bag frozen shelled edamame (soybeans)
1 -15 ounce can black beans, rinsed and drained
½ cup chopped green onions
2 Tablespoons chopped fresh parsley or 2 teaspoons dried parsley
2 tablespoons lemon juice
1 tablespoon olive oil
2 cloves garlic, minced
4 ounces low-fat feta cheese, crumbled
Cooking Directions
Cook pasta according to directions on the package. Drain in a colander and run cold water over cooked pasta for about 20 seconds to stop the cooking process. Drain well.
In a medium bowl, combine all remaining ingredients except the feta cheese. Add the pasta and feta t the mixture. Chill and serve.
Nutrition Information
Makes 8 servings, about 1 cup each
Per serving: Calories: 231; Fat: 8.3g; Saturated fat: 2.6g; Cholesterol: 12.5 mg; Sodium: 325 mg; Cholesterol: 25 mg; Fiber: 8g; Protein: 14.5g.
Quick Southwestern Chicken Barley Chili
Ingredients
1 can (14.5 oz) diced tomatoes, no salt added, undrained
1/2 cup salsa
1 can (14.5 oz) fat-free chicken broth
1 cup Quaker® Quick Barley
3 cups water
1 tablespoon chili powder
1 teaspoon cumin
1 can (15 oz ) black beans, drained and rinsed
1 cup frozen whole kernel corn
1/2 cup chopped green pepper
3 cups cooked chicken breast, cut into bite-sized pieces(about 1-1/2 lbs boneless before cooking)
Cooking Directions
In a 6-qt saucepan, combine the first 7 ingredients. Over high heat bring to a boil; cover and reduce heat to low. Simmer for 10 minutes, stirring occasionally. Add beans, corn, pepper and chicken; increase heat to high until chili comes to a boil. Cover and reduce heat to low. Simmer for another 5 minutes, or until barley is tender. If upon standing the chili becomes too thick, add more chicken broth or water until chili is desired consistency.
Or combine all ingredients in the crockpot except barley. Cook on high for 1 hour and then low for 3-5 hours longer. Add barley in the last 2 hours of cooking.
Nutrition Information
Makes 10 cups, serving size =1 cup
Calories: 210; Total Fat: 2g; Saturated Fat: 0.5g; Trans Fat: 0 g; Cholesterol: 35 mg; Sodium: 250mg; Carbohydrate: 29g; Fiber: 6g; Protein: 19g.
Meet Our Dietitian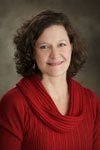 At Owensboro Health, you'll get nutrition counseling from a registered nutritionist — an expert in medical nutrition therapy. Beth Cecil, RDN, LD (right), is certified in food allergy management and is a Lifestyle Coach for the Diabetes Prevention Program. She also holds a Certificate of Training in Childhood and Adolescent Management, so you can trust her to care for your or your loved one's specialized needs.
Learn more about Nutrition & Weight Management programs & services.
About Owensboro Health
Owensboro Health is a nonprofit health system with a mission to heal the sick and to improve the health of the communities it serves in Kentucky and Indiana. The system includes Owensboro Health Regional Hospital, nationally recognized for design, architecture and engineering; Owensboro Health Muhlenberg Community Hospital; Owensboro Health Twin Lakes Medical Center; the Owensboro Health Medical Group comprised of over 200 providers at more than 20 locations; three outpatient Healthplex facilities, a certified medical fitness facility, the Healthpark; a surgical weight loss center and program, and the Mitchell Memorial Cancer Center.
On average each year, we have 16,000 inpatient admissions, deliver 2,000 babies and provide the region's only Level III NICU. Owensboro Health physicians perform nearly 24,000 surgical procedures, including nearly 200 open-heart surgeries. Our physicians and staff have 70,000 Emergency Department visits, more than a million outpatient visits annually. Visit our home page for more information.