Published on September 07, 2017
"Reeling" Good Lent Recipes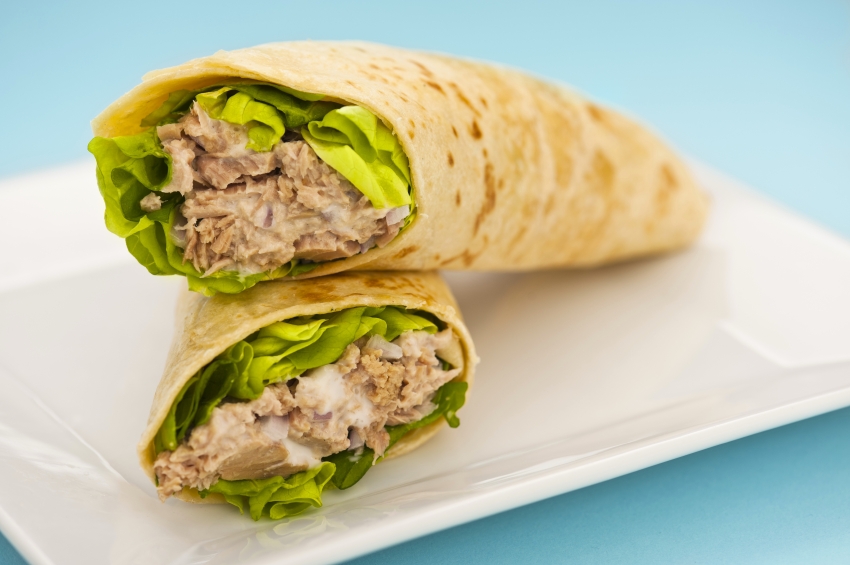 February not only marks American Heart Month, but also the start of lent. Do you find yourself "reeling" for meal options on meatless Fridays or "searching" for heart healthy foods? If so, here is an idea we should all tackle. Go fish!
The American Heart Association recommends we eat at least two servings of fish each week, with a serving being about 3.5 ounces.
Fish is low in the unhealthy saturated fat but high in heart healthy omega-3 fatty acids. Studies show that Omega-3s can decrease the risk of abnormal heartbeats ( which can lead to sudden death), slow the growth rate of artery clogging plague, decrease triglyceride levels and may slightly lower blood pressure.
Your best choices for Omega 3's are the fatty fish such as salmon, herring, sardines, mackerel and albacore tuna and can often be identified by their deep colored flesh.
If you are not a big fish eater right now, start slowly. You will catch on in no time. Try fish once a week and then work up to those two servings a week. And don't get too caught up in all the details such as farm-raised vs. wild-caught or where to specifically buy fish. Focus more on affordability and of course palatability.
Find a fish variety you like and ideally prepare it healthfully. Bake it, broil it or grill it and try seasoning your fish with herbs, spices and lemon. Limit or avoid battered and fried fish and go easy on the sauces.
Here are two quick, easy and healthy recipes for you to try from www.foodandhealth.com
Tuna Wrap Platter
Tuna wraps are a fun and easy way to add more seafood to your family's diet.
Ingredients:
1 6-ounce can albacore tuna, drained
1 cup diced ripe tomato
1/2 cup diced cucumber
1/4 cup sliced green onion
1/4 cup light mayonnaise
4 low-fat flour tortillas
4 cups ready-to-serve romaine lettuce
4 tablespoons nonfat salad dressing
Directions:
Place tuna, vegetables, and mayonnaise into medium-sized mixing bowl and mix together well.
Warm flour tortillas slightly in the microwave or toaster oven and roll each one with a quarter of the tuna salad. Cut the tuna roll in half diagonally and place on a plate.
Toss 4 cups lettuce with nonfat salad dressing and set next to tuna wraps.
Serving Size: I sandwich. Makes 4 servings.
Nutrition Stats:
Per serving: Calories- 327, Total fat- 9 g, Sat fat- 2 g, unsaturated fat- 7 g, Cholesterol- 25 mg, sodium- 855 mg, Carbohydrate- 34 g, fiber- 3 g, protein, 26 g
---
Lemon Butter Salmon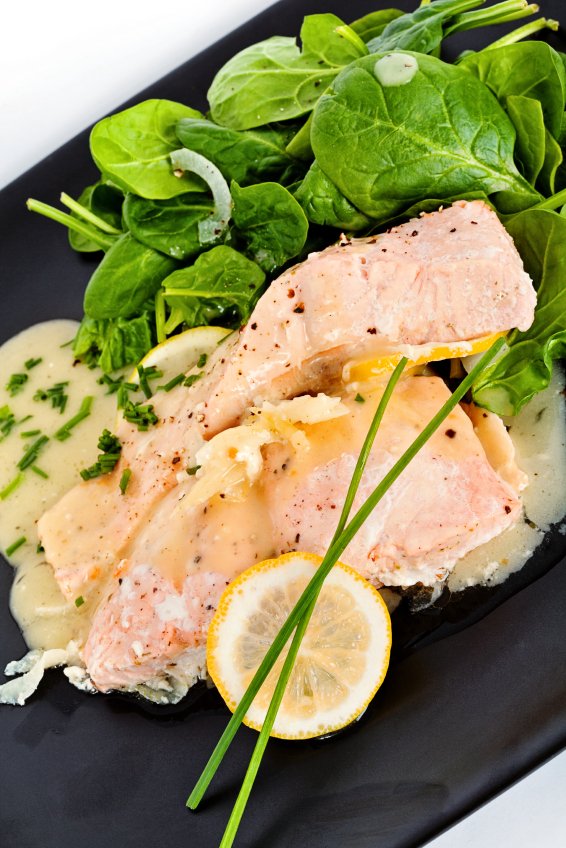 Serves 1 | Serving Size: 1 fillet
Ingredients:
3.5 ounces salmon fillet thawed
1 lemon
1 tsp butter
black pepper to taste
pinch salt
paprika
1 tablespoon Panko bread crumbs

Serve with:
1 cup peas
1 sweet potato
Directions:
Place the salmon fillet in a baking dish. Squeeze a lemon over the top of the fish and allow it to spill into the baking dish. Sprinkle black pepper, paprika, salt and bread crumbs on the salmon. Cut the butter into small bits and place on the top of the salmon.

Bake at 350 degrees for 15 minutes then turn the heat up to 390 for the final 5 minutes. Cook until the salmon reaches an internal temperature of 145 degrees. Serve hot.

This fish goes great with sweet potatoes and peas. To cook those in the oven you can microwave the sweet potato for 4 minutes and then add it to the oven. You can place the peas in a shallow bowl, cover with foil and then bake in the oven along with the fish.
Serving size- 1 fillet with peas and potato
Nutrition Stats:
Per serving: calories- 724, total fat- 23 g, saturated fat- 5 g, unsaturated fat- 18 g, cholesterol- 173 mg, sodium- 240 mg, carbohydrate- 58 g, fiber- 13 g, protein – 71 g
Meet Our Dietitian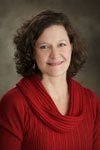 At Owensboro Health, you'll get nutrition counseling from a registered nutritionist — an expert in medical nutrition therapy. Beth Cecil, RDN, LD (right), is certified in food allergy management and is a Lifestyle Coach for the Diabetes Prevention Program. She also holds a Certificate of Training in Childhood and Adolescent Management, so you can trust her to care for your or your loved one's specialized needs.
About Owensboro Health
Owensboro Health is a nonprofit health system with a mission to heal the sick and to improve the health of the communities it serves in Kentucky and Indiana. The system includes Owensboro Health Regional Hospital, nationally recognized for design, architecture and engineering; Owensboro Health Muhlenberg Community Hospital; Owensboro Health Twin Lakes Medical Center; the Owensboro Health Medical Group comprised of over 200 providers at more than 20 locations; three outpatient Healthplex facilities, a certified medical fitness facility, the Healthpark; a surgical weight loss center and program, and the Mitchell Memorial Cancer Center.
On average each year, we have 16,000 inpatient admissions, deliver 2,000 babies and provide the region's only Level III NICU. Owensboro Health physicians perform nearly 24,000 surgical procedures, including nearly 200 open-heart surgeries. Our physicians and staff have 70,000 Emergency Department visits, more than a million outpatient visits annually. Visit our home page for more information.