Ready to get a COVID-19 Vaccine? Start here.
Vaccines Now Available For Ages 5+
Owensboro Health is now scheduling vaccine appointments for individuals ages 5 and older.
Those ages 12 and up can schedule an appointment online for a vaccine or booster shot.
For children aged 5-11, please call Owensboro Health Medical Group Children's Center at 270-688-4480. 
All children must have a parent or legal guardian present.
Please note: If you have tested positive for COVID-19 and received convalescent plasma or antibody infusion treatment, we recommend waiting 90 days before getting the vaccine.
You can also call 270-685-7100 (option 6) or sign up in MyChart. Walk-ins will not be accepted.
Who Should Get Vaccinated?
We recommend EVERYONE over the age of 5 get vaccinated. It is especially important for these groups who have a higher risk of severe disease or death, including the following groups:
Immunocompromised
Currently receiving active cancer treatment for tumors or cancers of the blood.
Received an organ transplant and are taking medicine to suppress the immune system.
Received a stem cell transplant within the last two years
Taking medicine to suppress the immune system.
Moderate or severe primary immunodeficiency (such as DiGeorge syndrome or Wiskott-Aldrich syndrome).
Advanced or untreated HIV infection.
Active treatment with high-dose corticosteroids or other drugs that may suppress your immune response.
Your doctor or healthcare provider has indicated that you have a weakened immune system and need the booster dose.
Underlying Medical Conditions
Per CDC, adults of any age with the following conditions are or may be at increased risk of severe illness from the virus that causes COVID-19:
Asthma (moderate-to-severe)
Cancer
Cerebrovascular disease (affects blood vessels and blood supply to the brain)
Chronic kidney disease
COPD (chronic obstructive pulmonary disease)
Cystic fibrosis
Down Syndrome
Heart conditions, such as heart failure, coronary artery disease or cardiomyopathies
Hypertension or high blood pressure
Immunocompromised state (weakened immune system) from solid organ transplant
Immunocompromised state (weakened immune system) from blood or bone marrow transplant, immune deficiencies, HIV, use of corticosteroids, or use of other immune weakening medicines
Liver disease
Neurologic conditions, such as dementia
Obesity (body mass index [BMI] of 30 kg/m2 or higher by < 40 kg/m2)
Overweight (BMI > 25 kg/m2, but < 30 kg/m2)
Severe obesity (BMI ≥ 40 kg/m2)
Pregnancy
Pulmonary fibrosis (having damaged or scarred lung tissues)
Sickle cell disease
Thalassemia (a type of blood disorder)
Type 1 diabetes mellitus
Type 2 diabetes mellitus
Work in a High-Risk Setting
First responders (e.g., healthcare workers, firefighters, police, congregate care staff)
Education staff (e.g., teachers, support staff, daycare workers)
Food and agriculture workers
Manufacturing workers
Corrections workers
U.S. Postal Service workers
Public transit workers
Grocery store workers
Live in a High-Risk Setting
Skilled nursing and nursing facilities (also known as nursing homes)
Intermediate care facilities for individuals with intellectual disabilities 
Residential treatment facilities
Assisted living settings for older adults and people with disabilities
Senior center programs and congregate nutrition programs
Jails or prisons
COVID-19 Vaccine Boosters Available Now
Am I eligible for a booster?
The FDA and CDC recommend a booster shot of COVID-19 vaccines for individuals ages 12 and older. Getting a booster is an important step forward as we work to stay ahead of the virus and keep Americans safe.
All three vaccines protect against COVID-19 and severe illness and death. Boosters are intended to return the vaccine's protection to the optimal level. CDC recommendations now allow for mix and match dosing for booster shots. For example, getting a Moderna booster when you initially had a Pfizer vaccine.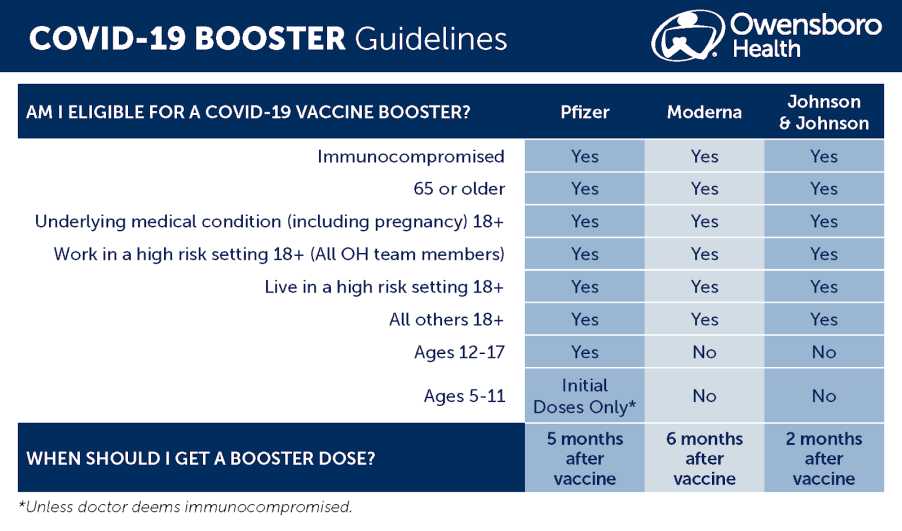 Eligibility guidelines from the infographic are listed as live text below:
Booster eligibility
Individuals ages 12 and older are eligible for a booster dose.
Ages 5-11 are not yet receiving boosters. However, children deemed immunocompromised by their pediatrician may qualify for a third dose.
When should I get a booster dose?
Pfizer: Five months after initial vaccine series 
Moderna: Six months after initial series
Johnson & Johnson: Two months after first dose
Schedule your COVID-19 Booster
Please bring the vaccination card that was given to you with your initial vaccine.
Additional Information
Vaccine Availability by Manufacturer
The Kentucky Department of Public Health (KDPH) is overseeing the COVID-19 vaccination process. Owensboro Health is currently administering the Pfizer-BioNTech and Moderna vaccines. Johnson & Johnson vaccines may be administered based on availability. Please call 270-685-7100 (option 6) to see which vaccine is available at each location.
After you schedule your appointment:
You will receive a confirmation email, text and/or MyChart message. Please check your email for appointment confirmation.
Log into MyChart to complete eCheck-in prior to arriving for your appointment.
Plan to bring your insurance card(s) and an ID to your appointment.
If getting your first dose, bring your work schedule/calendar with you, as you will schedule your second vaccination while at this appointment.
You will be at your appointment for about 30-45 minutes. Plan to wait at least 15 minutes on site after receiving your vaccine.
If you need to reschedule, call 270-685-7100 and choose option 6
Who pays for the vaccine?
The federal government is covering the cost of the vaccine itself, but healthcare providers are charging a fee (between $20-$30) for administering the vaccine.
Please bring your insurance card so your insurance company can be billed. If you do not have insurance, the federal government will cover the cost of vaccine administration.
No costs are passed on to individuals. You will NOT be charged or asked to pay anything out of pocket.
Questions about the vaccine?