Published on February 05, 2019
Chocolate For The Heart
"I'd give up chocolate, but I am no quitter." Chocolate lovers, you may not need excuses like this anymore because chocolate may actually be good for us. Studies have shown that chocolate could help maintain heart health and may play a role in lowering cholesterol and blood pressure, two leading contributors to heart disease.
Don't get all chocolate crazy just yet as more long-term studies are needed. For now, though, there is some evidence that moderate amounts of certain chocolates have promising health benefits.
If you are one who thinks that the world is a happier place because of chocolate, here is the lowdown.
Chocolate, which comes from the cocoa bean, gets its health benefits from antioxidants called flavonoids. However, the flavonoids are very bitter and usually require processing, which improves the taste, but removes the healthful flavonoids.
The higher the cocoa content of a chocolate, the greater the antioxidant activity (or flavonoid content). So look for numbers like 60% cocoa or more for the greatest potential health benefits.
Natural cocoa powder has the most flavonoids or highest percentage of cocoa. Unsweetened baking chocolate is the next best choice, followed by dark chocolate and then semi-sweet chocolate. Milk chocolate has a significantly lower percentage of cocoa and white chocolate (my personal favorite) has none. Bummer!
Believe that chocolate is addictive? You may be right. According to some experts, the chocolate cravings can be attributed to the "hedonic" appeal of chocolate. Chocolate may also stimulate the body to release "feel good" substances called endorphins.
This Valentine's Day, as you envision that heart-shaped box of sweets, go for the darker varieties of chocolate. But remember this: Dark chocolate may add health benefits to your diet, but it also contributes calories, sugar and fat, even in small amounts. Practice moderation when it comes to chocolate. Experts suggest about an ounce a day of dark chocolate as long as you stay within your recommended calorie limits.
Here is a tasty alternative to chocolate candy.
Dark Chocolate Covered Strawberries
  Ingredients
6 ounces dark chocolate
3 tablespoons half and half cream
½ tablespoon unsalted butter
20 large strawberries
Directions
In a one-quart glass bowl combine chocolate and cream. Heat in microwave on high for 1 ½ to 2 minutes, stirring occasionally until smooth. Add the butter and stir until melted.
Dip each strawberry into the chocolate mixture allowing the excess chocolate to drip back into the bowl. If necessary, add additional cream to the chocolate to achieve the desired coating consistency. Transfer the coated strawberry to a baking sheet lined with foil or waxed paper and repeat the process. Allow the chocolate to cool and then chill the strawberries until the chocolate is set, about 20-30 minutes.
Nutrition Stats
Per strawberry: 57 calories, 3 grams fat, 1.9 grams unsaturated fat, 2 mg cholesterol, 15 mg Vitamin C
Source: The American Dietetic Association
Meet Our Dietitian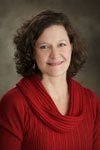 At Owensboro Health, you'll get nutrition counseling from a registered nutritionist — an expert in medical nutrition therapy. Beth Cecil, RDN, LD (right), is certified in food allergy management and is a Lifestyle Coach for the Diabetes Prevention Program. She also holds a Certificate of Training in Childhood and Adolescent Management, so you can trust her to care for your or your loved one's specialized needs.
Learn more about Nutrition & Weight Management programs & services.
About Owensboro Health
Owensboro Health is a nonprofit health system with a mission to heal the sick and to improve the health of the communities it serves in Kentucky and Indiana. The system includes Owensboro Health Regional Hospital, nationally recognized for design, architecture and engineering; Owensboro Health Muhlenberg Community Hospital; Owensboro Health Twin Lakes Medical Center; the Owensboro Health Medical Group comprised of over 200 providers at more than 20 locations; three outpatient Healthplex facilities, a certified medical fitness facility, the Healthpark; a surgical weight loss center and program, and the Mitchell Memorial Cancer Center.
On average each year, we have 16,000 inpatient admissions, deliver 2,000 babies and provide the region's only Level III NICU. Owensboro Health physicians perform nearly 24,000 surgical procedures, including nearly 200 open-heart surgeries. Our physicians and staff have 70,000 Emergency Department visits, more than a million outpatient visits annually. Visit our home page for more information.