Published on January 27, 2021
Steps to a healthier you
"I had no idea that's what I looked like!" Michelle Magan found her motivation to lose weight when she looked at a photo of herself. She decided it was time to do something, so she joined the LifeSteps program at the Healthpark.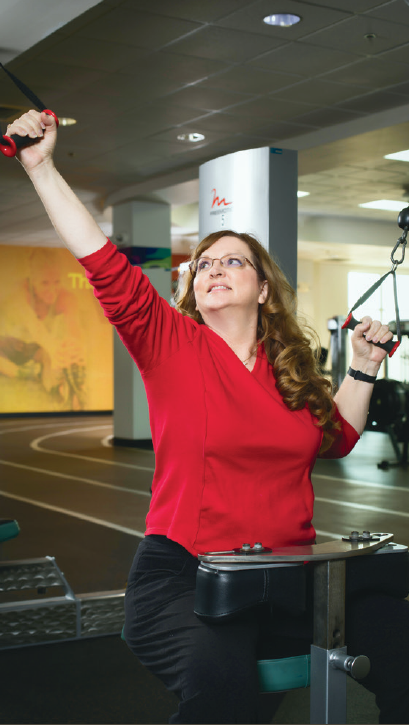 LifeSteps is a 14-week weight management program that teaches techniques to lose weight and keep it off. The program is managed by a registered dietitian, and classes are taught by certified LifeSteps instructors. The group motivates and supports members as they learn to make the small changes that build a healthier lifestyle.
A healthy eating plan
During the LifeSteps program, Michelle learned to shop the perimeter of the grocery store, which helped her to eat more fresh foods and fewer processed foods. She hadn't realized she was not eating from all the food groups in healthy portions. By pairing this knowledge with plenty of moderation, she started to see success.
The program also included several visits to the Healthpark to begin a fitness routine. Once she completed LifeSteps, Michelle felt ready to take her fitness to the next level. She talked to her doctor about another Healthpark program, Exercise is Medicine.
A new lifestyle
Michelle visited the Healthpark at least three times each week for eight weeks for the medically supervised fitness program. Her trainer, Caroline Dayson, developed a regimen to help her accomplish her goals.
Exercise is Medicine worked so well for her that she knew she had to continue — so Michelle joined the Healthpark as a member. Now that she has developed healthy habits, she feels as though her day is not complete if she misses a day at the Healthpark.
"I didn't know that I didn't feel good until I was actually healthy and felt better," Michelle said. "What I found at the Healthpark was the total package."
Michelle has lost 35 pounds so far, and her overall health has improved. "The key is not just the rules — it's the behavior change," she said.
---
Man on a mission
Greg Warren works at a desk — sitting the majority of the day. His energy level was low, he was treating his high blood pressure with medication, and he knew he needed to lose weight.
The first step he took was joining the Lifesteps program to learn how to change his behaviors and get healthy. The structured nature of the class taught him techniques and helped keep him accountable.
Important lessons
The class not only looks at what a person eats, but also why they eat. Greg learned a trick to identify the "why" when he felt hungry. He explained that if you feel hungry, ask yourself if you would eat an apple. If your answer is yes, you really are hungry. If the answer is no, you are just mentally hungry.
Greg also learned to keep nutritious foods available. Carrots, grape tomatoes and apples are always nearby, along with plenty of water so he can stay hydrated. He also uses a food journal and a fitness app to keep himself accountable.
There are times, though, when dessert just looks so good. When that happens, Greg enjoys some in moderation and doesn't beat himself up about it.
Next steps
Greg discovered his passion for cycling during the Lifesteps program. He keeps his bike in his car so that whenever he has some free time, he can take off riding. Not only does he get the cardio exercise that helps with weight loss, but he also finds it to be a stress reliever.
Greg has lost 60 pounds and 10 inches around his waist. He has reduced his blood pressure medication and no longer feels hot all the time. But he's not done! He aims to tone his muscles and eliminate his need for medication entirely. To achieve his goals, he is starting the Exercise is Medicine program.
"The Lifesteps program changed my life. The focus on behavior change helped me develop a personalized eating and physical activity plan that will last a lifetime!" — Greg Warren
---
Read more
This story is from the Spring 2020 issue of Lift magazine. For more stories, check out our latest edition.
About Owensboro Health
Owensboro Health is a nonprofit health system with a mission to heal the sick and to improve the health of the communities it serves in Kentucky and Indiana. The system includes Owensboro Health Regional Hospital, nationally recognized for design, architecture and engineering; Owensboro Health Muhlenberg Community Hospital; Owensboro Health Twin Lakes Medical Center; the Owensboro Health Medical Group comprised of over 200 providers at more than 20 locations; three outpatient Healthplex facilities, a certified medical fitness facility, the Healthpark; a surgical weight loss center and program, and the Mitchell Memorial Cancer Center.
On average each year, we have 16,000 inpatient admissions, deliver 2,000 babies and provide the region's only Level III NICU. Owensboro Health physicians perform nearly 24,000 surgical procedures, including nearly 200 open-heart surgeries. Our physicians and staff have 70,000 Emergency Department visits, more than a million outpatient visits annually. Visit our home page for more information.