Heart Screenings & Diagnosis
Protect your heart's health by taking advantage of screenings and diagnostic tests at Owensboro Health. Screenings are the first step in identifying a potential heart condition. If a screening reveals an abnormality, or you're experiencing symptoms of a heart problem, diagnostic procedures can pinpoint where your cardiovascular system needs help.
Comprehensive Heart Tests & Screenings
You'll benefit from Owensboro Health's advanced technology that helps you get the most accurate assessment of your heart's health.
Your doctor may recommend one of these diagnostic procedures:
Blood pressure screening - Only a screening can reveal if you have high blood pressure, which increases your risk of heart disease but usually shows no symptoms.
Cardiac Catheterization - A minimally invasive procedure in which a cardiologist inserts a catheter into a vein and threads it up to your heart.
Cardiac Scoring using a variety of screening exams to calculate a patient's risk of Heart Disease
Diagnostic Telemetry to keep a patient's radiologist in contact with the Owensboro Health Heart staff at all times
Electrocardiogram (EKG) – Places electrodes on your chest to measure your heart's electrical activity
Electrophysiology studies (EP) to detect abnormal heart tissue that causes Arrhythmia (Irregular Heart Rate). Therapies include temporary and permanent Pacemaker Placement and Automatic Defibrillator Implementation.
Heart CT Scan

Coronary Calcium Scan – Checks for calcium buildup in your arteries
CT Angiography – Examines the coronary arteries, which send blood to your heart
Noninvasive fractional flow reserve derived from coronary CT Angiography

Heart Monitoring

Holter Monitor – Attaches electrodes to your chest for one or two days to record your heart's rhythms
Implantable Loop Recorder, or Insertable Cardiac Monitor – Places a tiny device under your skin to record the heart's electrical activity over a long period of time

Mobile Cardiac Outpatient Telemetry
Nuclear Cardiology
Nuclear Stress Test – Measures how well blood flows to the heart by using radioactive material
Pericardiocentesis – Removes and examines fluid that's pressing on your heart
Peripheral Vascular Arterial Test
Remote Monitoring of Pacemakers and Defibrillators

Patient-Activated Event Recording using a device worn by patients for one to four weeks to record symptoms

Right-Heart Catheterization – Threads a tiny tube (catheter) through your blood vessels to monitor blood flow and blood pressure
Tilt Table Test – Helps diagnose fainting or light-headedness by measuring your heart rate and blood pressure as you lie on a table that slowly tilts upward
Treadmill Stress Testing to assess the performance of a patient's Cardiovascular System
Ultrasound Imaging

Carotid Artery Ultrasound
Echocardiogram – Painlessly creates pictures of your heart
Stress echo – Measures how your heart responds to exercise or a drug that simulates the effect of exercise
Intravascular Ultrasound – Looks at the coronary arteries, which send blood to your heart
Transesophageal Echocardiography (TEE), a special type of imaging test that uses high frequency sound waves to monitor heart function
Renal Ultrasound
Vascular Screenings
Find out your risk of stroke, aneurysm, peripheral artery disease (PAD) and other conditions related to your blood vessels by getting vascular screenings.
Echocardiography Accreditation Means Excellent Care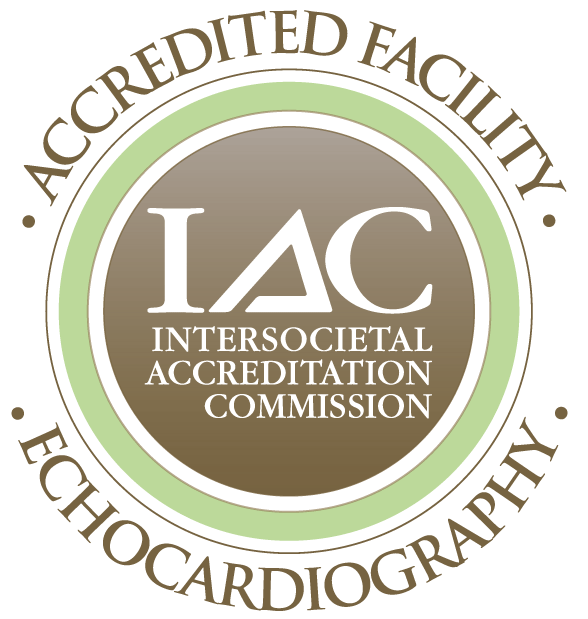 Owensboro Health Regional Hospital is accredited in adult Transthoracic Echocardiography by the Intersocietal Accreditation Commission. So rest assured a skilled Sonographer will use sophisticated equipment to perform your exam, and a highly qualified doctor will interpret the results. That means you'll receive the informed diagnosis you need to get personalized recommendations for treatment.