Why Owensboro Health?

As a physician at Owensboro Health, you'll use your skills daily to solve problems and improve your patients' quality of life. We invite board certified/board eligible candidates to explore opportunities in helping us continue delivering top-quality care to our neighbors in western Kentucky and southern Indiana.
Whether you're a new or established physician, make Owensboro Health your professional home. You'll play an integral role in Owensboro Health Medical Group, a network of more than 270 leading primary and specialty care providers in western Kentucky and southern Indiana.
Here, you can:
Do what you love. Focus on medicine while relying on us to handle administrative duties, such as human resources and internal technology management.
Expect financial security. Look forward to more economic stability amid changes in health care. Take even better care of your employees, whose salary and benefits will likely increase after joining Owensboro Health. And count on our marketing expertise to help bring you, new patients.
Let technology simplify your job. More easily and securely collect, store and access your patients' health information by using our electronic medical record (EMR) system, MyChart.
Enjoy generous benefits. Take advantage of a comprehensive benefits package tailored to your needs. Ease your transition to Owensboro Health with our substantial sign-on bonus and assistance with relocation expenses and student loan payments.
Support For Your Work
When you're affiliated with Owensboro Health or have physician privileges at Owensboro Health facilities, a member of our physician relations team visits you regularly to: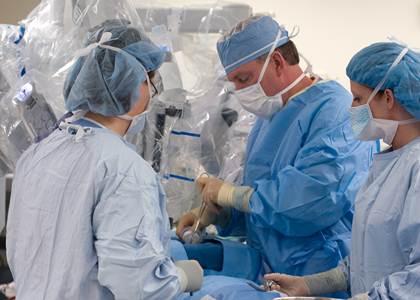 Provide information about new and expanded services for your patients
Help coordinate referrals to and from other providers
Arrange consultations with fellow physicians
Help resolve your concerns
Regional Leader
Owensboro Health reaches a 18-county area, serving nearly 500,000 in Western Kentucky and Southern Indiana. With a centrally located hospital housing more than 30 specialties, three outpatient Healthplex locations and the Healthpark, a 110,000-square foot medical-based health and fitness center, Owensboro Health offers regional patients numerous ways to access and benefit from advanced care.
What our physicians are saying
"I've never felt more supported or heard in my career than I am now."

Dr. Jody Mitchell, Sports Medicine
"Teamwork is one of the six core commitments of Owensboro Health. By working as a team, we deliver truly excellent care and service." 

Dr. Francis DuFrayne, Chief Medical Officer
Owensboro Health Service Area
Indiana Counties
Kentucky Counties
Breckinridge
Butler
Daviess
Edmonson
Grayson
Hancock
Hardin
Hart
Henderson
Hopkins
Logan
McLean
Muhlenberg
Ohio
Union
Webster
June 1, 2019 - May 31, 2020
OHMCH
Licensed to Operate (beds) - 135
Employees - 488
Admissions - 1,041
Total Surgical Procedures - 1,644
Births - 0
Open-Heart Procedures - 0
Emergency Department Visits - 14,951
Convenient Care Visits - 13,173
Clinic Visits - 10,842
Total Outpatient Visits - 56,433
OHRH
Licensed to Operate (beds) - *477
Employees - 3,017
Admissions - 15,806
Total Surgical Procedures - 23,796
Births - 2,074
Open-Heart Procedures - 97
Emergency Department Visits - 62,175
Convenient Care Visits - 29,139
Clinic Visits - 437,490
Total Outpatient Visits - 925,637

*Includes 30 Transitional Care Beds
**Includes 30 Long-Term Care Beds
Total
Licensed to Operate (beds) - 612
Employees - 4,385
Admissions - 16,847
Total Surgical Procedures - 25,440
Births - 2,074
Open-Heart Procedures - 97
Emergency Department Visits - 77,126
Convenient Care Visits - 42,312
Clinic Visits - 448,332
Total Outpatient Visits - 982,070
About Owensboro
Here at Owensboro Health we work together to form one fully comprehensive, patient-centered team to provide the best care we can - which creates a positive work environment for us.
Learn more about Owensboro and why we love it.
Interested in Joining Owensboro Health?