Environmentally Friendly Hospital Campus
Through Owensboro Health Regional Hospital's environmentally friendly approach to design and construction, we hope to pass on our love of the Earth and natural resources to you.
Eco-Friendly Initiatives In Action
A healthy environment helps you stay well. That's why our hospital uses water, land and other natural resources sustainably. You can trust our commitment to protecting the environment because:
We were the first hospital in the world to achieve the Audubon International Signature Program designation, which helps developers preserve natural resources.
Our hospital was built with a framework for green building design.
Giving Back With 1,000 Trees

Building our hospital in 2013 was a great leap for the Owensboro community, but preserving our resources has been, too. Since July 2010, over 1,000 trees have been planted on our 160-acre campus, along with other greenery.  
A Healing Environment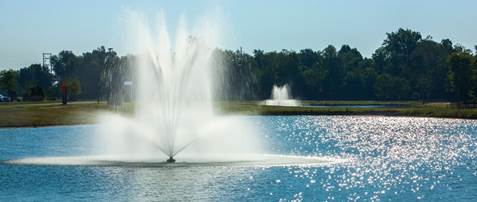 We invite you to enjoy the splendor of our beautiful campus, like our healing pond, rooftop garden and fitness trail.
Our healing pond does more than offer a stunning place to relax. The pond collects water during heavy rains and stores it for irrigation in drier weather through a series of underground pipes. Our rooftop garden—which offers a beautiful view for our birth center families—also has drains that lead to the pond. When landscape sensors detect dry soil, our irrigation systems kick in, keeping our lawn lush and green all year long. 
Coupled with our low-maintenance and low-chemical use grass, the hospital landscape offers a green space where you can relax.