Auditorium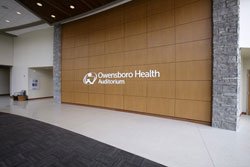 If you participate in an event at Owensboro Health Regional Hospital's auditorium, you'll get the most out of your experience thanks to our advanced amenities and technology. Located in our Pleasant Valley Center, the auditorium is the premier facility of its kind in the Owensboro area.
Join An Educational Event Here
At our 300-seat auditorium, you might:
Attend or speak at a conference on a public-health issue
Watch grand rounds or a surgery live-streamed for medical and nursing students
View a real-time educational presentation at the University of Louisville or University of Kentucky
Planning a program or event? The Owensboro Health Auditorium may be just right for you.
Amenities For Audiences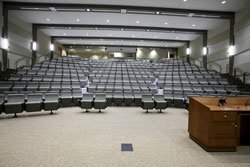 As an audience member, you'll appreciate:
A 22-foot, high-definition screen that makes it easy for you to see the action, no matter where you are in the auditorium
Comfortable seats with:

Plenty of leg room
Power outlets, so your devices stay charged
Trays for holding laptops, notebooks
Overflow space for 300 people in nearby conference rooms with video and audio feeds of auditorium presentations
High-Tech Tools For Speakers
When you deliver your presentation in the auditorium, take advantage of:
A digital overhead projector that displays content from your laptop or desktop computer
A 42-inch video monitor that faces you when you're onstage and displays your presentation slides
The ability to relocate and adjust the podium for your convenience and presentation style
Two wireless lapel microphones and two wireless handheld microphones
A Blu-ray player for showing prerecorded videos