Chapels
Participate in a religious service, pray, read or engage in quiet reflection in one of two peaceful, nondenominational Owensboro Health chapels.
Mercy Chapel of Hope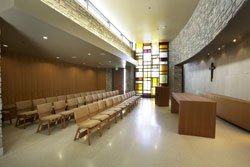 You'll find the Owensboro Health Regional Hospital Mercy Chapel of Hope on the first floor, to the right of the main entrance. Head down the hall and turn right at the Starbucks.
Mass Schedule
A priest celebrates Mass at this chapel at Noon on Monday, Tuesday, Wednesday and Friday. Catholic mass at noon on Sunday is in the Pleasant Valley Medical Building Auditorium. If you're a hospital team member, check Link for a schedule of seasonal services. The chapel is open 24/7, so you can visit any time you need to.
Healthpark Chapel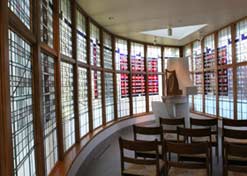 To get to the chapel at Healthpark, our medical fitness center, turn right after entering the building and head through the double doors. Take advantage of this chapel during Healthpark hours.