Pediatric Care
Your child's well-being is Owensboro Health's priority. From checkups to emergency services to surgery, our expert care helps youths up to age 17 reach their potential throughout their growth and development.
Our pediatric services include:
Same-day sick child appointments
Early morning & lunchtime appointments
Separate well-child waiting room & equipment
Access to a nurse 24 hours a day
Serving Babies, Children & Teens
Rely on our compassionate pediatric specialists to provide excellent:
Outpatient Care – Includes well-child visits, vaccinations, sports and school physicals, behavioral health consultations and more
Hospital Care – Secure, comfortable pediatric unit staffed by nurses certified in caring for children
Home Care – Offers therapy, nursing services and more to children of any age
Family-oriented Pediatric Care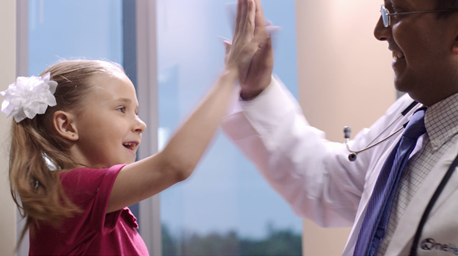 You are your child's main caregiver. That's why we closely involve you in medical decisions and work with you to develop a care plan that respects your family's values. We listen carefully to your concerns, take time to answer your questions, and recommend ways you can improve your child's health at home. You'll feel empowered to make choices that keep your loved ones as well as possible.
Schedule a Free Consultation
Get to know our pediatricians in a free 30-minute consultation. To schedule a consultation, call 270-688-4480.