Occupational Therapy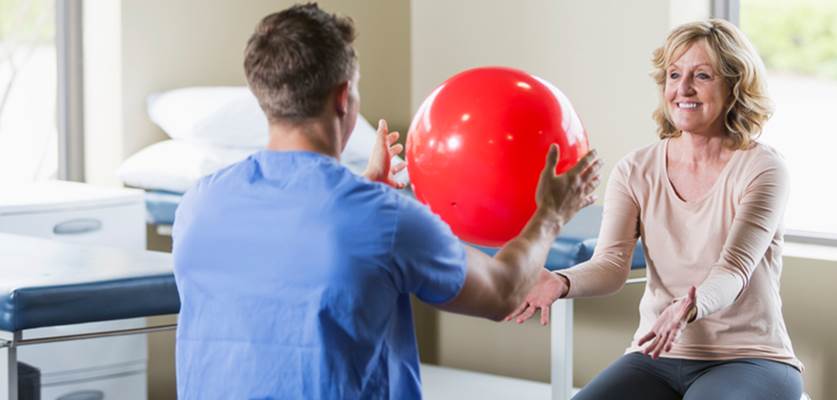 Occupational therapy is a healthcare profession that helps people with permanent or temporary disabilities or impairments enjoy independence and a better quality of life. Occupational therapists treat people of all ages who need assistance due to physical and developmental impairments.
They use meaningful and purposeful activities to assist people to function independently in daily life roles.
Occupational therapy services include comprehensive evaluations, skilled services to assist people with performing daily activities, cognitive training, home safety evaluations, adaptive equipment instruction to replace lost function, treatment for upper extremity problems, fabrication of splints, low vision rehabilitation and evaluation of job environments.
Occupational therapy services also include evaluation and treatment of children with birth injuries, learning problems, developmental disabilities and sensory processing problems.
Caring Occupational Therapy Professionals
All occupational therapists are college graduates. Most graduate with a master's degree or baccalaureate degree. Certified occupational therapy assistants (COTAs) are certified professionals, completing a specific two-year college program and working under the supervision and direction of an occupational therapist.
All occupational therapists and COTAs must pass a national exam, be licensed in the state of Kentucky, be registered nationally and demonstrate continued competence.
Our Occupational Therapy Facility
Our outpatient facility in Greenville, KY, provides areas for specific rehabilitation needs. Our facility includes an accessible bathroom with a shower for training of self-care activities. Hospital inpatients and long term care residents are treated at bedside or in our department as needed.
Your Occupational Therapy Team
Mindy Hardison, OTR/L
Amy Nelson, OTR/L
Britny Lynn, COTA
Khristen Coe, COTA
How Do I Begin Occupational Therapy?
For insurance coverage, you will need a written referral for occupational therapy from your doctor. You always have the right to choose where you receive your occupational therapy services and we will strive to ensure your satisfaction with choosing our hospital's department.
Next, call our department at 270-338-8413 to schedule an appointment. Have your insurance information available during this phone call. 
Bring the Following to Your First Appointment
Written referral from your physician
Insurance card(s)
List of your medications
Legal guardian if the patient is a minor
Wear comfortable clothes to your appointment. We look forward to being your partner in rehabilitation.
Department Information
Hours of Outpatient Operation
Monday - Friday, 7:30 a.m. - 4:30 p.m.
Phone
270-338-8413
Fax
270-338-8139