Owensboro Health Regional Rehabilitation Center
Owensboro Health Regional Hospital
1201 Pleasant Valley Road
Owensboro, KY 42303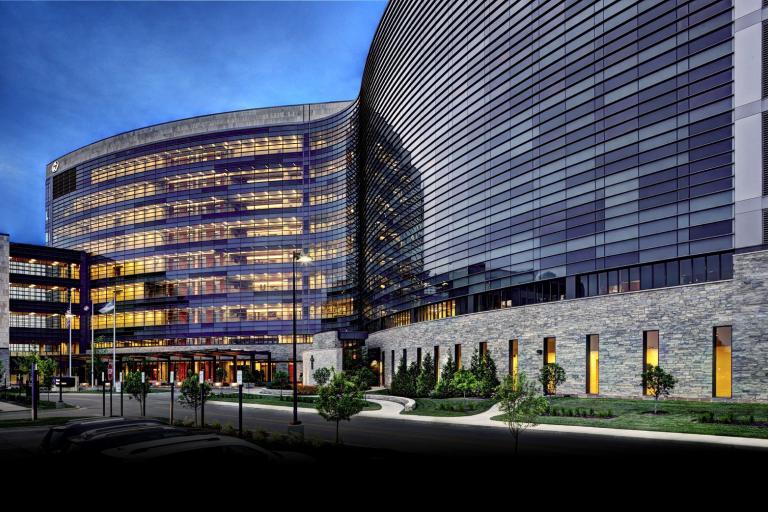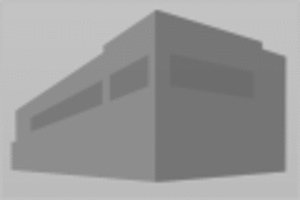 Following a serious injury or illness, increase your functioning and independence with help from the Regional Rehabilitation Center at Owensboro Health Regional Hospital. You'll get intensive therapy in an inpatient setting and receive personalized care from expert staff available 24/7. And because we're accredited by The Joint Commission and the Commission on Accreditation of Rehabilitation Facilities (CARF), you can trust us for top-quality services.
Who Does Inpatient Rehab Benefit?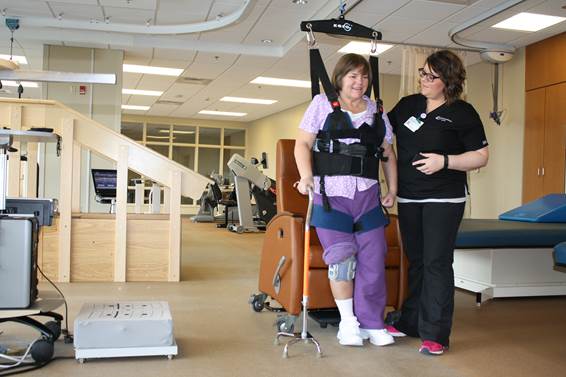 You may benefit from the Regional Rehabilitation Center if you face difficulties walking or completing daily tasks due to any condition, including:
Amputation
Brain injury
Neurological/Neuromuscular conditions (Parkinson's Disease or other movement disorders)
Orthopedic conditions
Pulmonary conditions
Spinal cord injury
Stroke
Traumatic injuries, including a spinal cord injury or fractured hip
Intensive Therapy
If you're admitted to the Regional Rehabilitation Center, you'll participate in three hours of therapy five days a week. You'll get at least two of these three types of therapy:
Physical Therapy
Physical therapists make every move count. Therapists assist the patient in relearning tasks—such as walking, balance, moving and coordination—and by implementing treatments designed to strengthen, coordinate and restore muscle activity necessary for movement and advancement toward recovery. A home exercise program is often established to help patients continue rehabilitation in the home after discharge.
Occupational Therapy
Occupational therapists help with meeting the challenge of activities of daily living that many take for granted – eating, cooking, bathing, grooming, dressing and safety. Pre-vocational evaluations can be performed to assist the patient and family with determining the patient's ability to return to work. Specialized adaptive equipment is used as needed – such as utensils, reachers, walkers, canes and crutches.
Speech and Language Pathology/Audiology
The need to communicate is essential. When speech is lost, the patient often becomes angry and frustrated, and feels isolated and insecure. Speech pathologists evaluate and treat patients whose ability to speak has been lost or impaired. Associated difficulties in reasoning and swallowing are also evaluated and treated. The therapist's goal is to increase and improve communication through verbal and nonverbal methods, as well as to ensure safe swallowing. Audiologic (hearing) evaluations are also available as needed.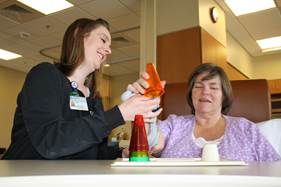 ---
Team of Caregivers
The medical, nursing and clinical staffs at the Center are integral members of the interdisciplinary team. Services combine advanced technologies, individualized care plans and innovative therapeutic techniques to help rebuild the lives of those we serve.
Nursing
Nurses serve as a vital link. They assist the patient and family in training and education for skin care, bowel/ bladder function, medication management and safety while the patient is regaining their skills. The goals our patients set out to achieve are important to us. Whether it's being able to pursue a specific hobby or just go for a walk, their individual goals become a big part of our plan.
Discharge Planner
The discharge planner assists with the social, emotional and financial aspects of coping during recovery. The discharge planner coordinates team conferences, secures community resources and assists with discharge to ensure that the transition to home is made successfully. A discharge summary and report card are sent to physicians after discharge to inform them of the progress made by their patients.
Dietary
Maintaining a balanced diet while recovering is important. Registered dietitians counsel the patients on special diets such as low cholesterol, sugar-free choices or other dietary recommendations.
Pastoral Care
Nurturing your body, mind and spirit is important. Our pastoral care department offers a chaplain and a chapel for spiritual healing.
Neuropsychology
Altered life changes due to impaired thought processes are challenging to face. The neuropsychologist performs specialized testing to identify any impairments with memory, reasoning, judgment and behavior adjustment. Assistance is available with return to work or school.
Therapeutic Recreation
Recreational activities occur on and off the unit. Some of the leisure activities offered by our therapists reinforce prior interests and abilities, as well as develop new ones. Activities commonly enjoyed on the unit include crafts, games, cooking and music. Community outings include trips to the park, museum, grocery store, retail stores and other local sites.
Helping You Meet Your Goals
Upon admission, you'll work with a rehabilitation physician and a therapist to develop goals that you'll work toward in the following days and weeks. Your care team will closely assess your progress and help you and your family determine when it's safe for you to return home. We'll evaluate your home environment, if necessary, and recommend adaptive equipment, home care and/or outpatient therapy at Healthpark or Multicare to help you continue your progress.