Physical Therapy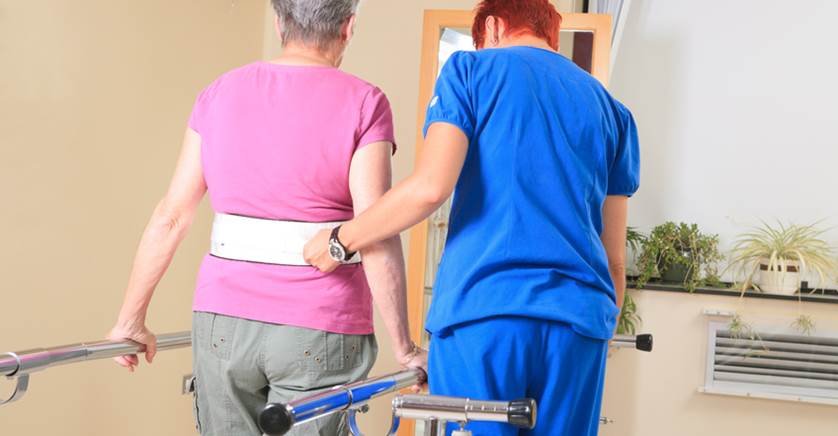 Physical therapy focuses in rehabilitation, movement and function. Physical therapists are experts in examination and treatment of problems related to muscles, nerves, and joints.
Physical therapists help people to regain function after a wide variety of conditions. Physical therapists use a wide variety of procedures and techniques to produce changes in these conditions. However, physical therapists not only treat people who are already injured, physical therapists also direct efforts toward preventing injury and loss of movement.
Who Needs Physical Therapy?
Any person with a physical condition that limits that person's ability to move and live as they wish may need physical therapy. Conditions causing impairments may originate from accidents, work place injuries, athletic injuries, disabilities or from other causes. We frequently treat the following conditions:
Amputation
Athletic Injuries
Balance Problems
Bone Fractures
Carpal Tunnel Syndrome
Disabilities in Newborns and Children
Head & Spinal Cord Injury
Joint Problems
Joint Replacement
Low Back Pain
Multiple Sclerosis
Neck Pain
Neurological Conditions
Osteoporosis
Parkinson's Disease
Peripheral Neuropathy
Pre & Post-Natal Conditions
Sprains & Strains
Tendinitis
Tension Headaches
Urinary Incontinence
Worker's Injuries
Baby steps make for big strides
"The only thing I could think of when the doctor told me 'cerebral palsy' was a wheelchair. She has a wheelchair, but it's in our garage now."
Anodyne Therapy For Diabetic Peripheral Neuropathy
The Anodyne Therapy System is a patented, FDA-cleared, non-invasive device that uses near-infrared light emitting diodes to safely increase local circulation and reduce pain. Use in thousands of patients and over a million clinical treatments has demonstrated that the Anodyne Therapy System increases microcirculation in patients with DPN, who often have severe vascular impairment.
The results of this improved circulation have been published in several medical journals and include improved sensation and nerve conduction, pain reduction and healing of chronic diabetic ulcers. New data shows that treatment with this therapy can also improve balance and gait and reduce the risk of falls by 96% in the elderly patient with neuropathy.
This is the first therapy program to help patients with the devastating complications of DPN.
To begin Anodyne Therapy, discuss your symptoms with your physician and request a referral to the Physical Therapy Department at Owensboro Health Muhlenberg Community Hospital.
Physical Therapy Professionals Providing Your Care
All physical therapists are college graduates. Most graduate with a Master's degree or higher. Physical therapist assistants are certified professionals, completing a specific two to three year college program and working under the supervision and direction of a physical therapist. All physical therapists and physical therapist assistants must pass a national exam, be licensed in the state of Kentucky and demonstrate continued competence. The physical therapy team at Owensboro Health Muhlenberg Community Hospital is over 150 years of combined clinical experience.
Your Physical Therapy Team
Physical Therapists
Sarah Coats, PT, DPT
Shelby Cotton, PT, MSPT
Jennifer Finley, PT, MSPT
Nola Jones, PT, DPT
Brianne Fortney, PT, DPT
Casie Stivers, PT, DPT
Sarah Sadler, PT, DPT
Brittany Phelps, PT, DPT
Physical Therapist Assistants
Morgan Cronin, PTA
Leann Coin, PTA
Betty Daugherty, PTA
Kennya Gil, PTA
Nikki Miller, PTA
Cindy Rutherford, PTA
Josh Willis, PTA 
Lindsey Maddox, PTA
Emily Finley, PTA
Physical Therapy Support Staff
Tracy Hocker, office manager
Linda Baize, office clerk
How Do I Begin Physical Therapy?
For insurance coverage, you will need a written referral for physical therapy from your doctor. You always have the right to choose where you receive your physical therapy services and we will strive to ensure your satisfaction by choosing our hospital's department.
Next, call our department at 270-338-8413 to schedule an appointment. Have your insurance information available during this phone call.
Bring the following to your first appointment:
Written referral from your physician
Insurance card(s)
List of your medications
Legal guardian if the patient is a minor
Wear comfortable clothes and shoes to your appointment. We look forward to being your partner in physical rehabilitation.
Department Information
Hours of Outpatient Operation
Monday - Friday, 7:30 a.m. - 4:30 p.m.
Thursday, 7:30 a.m. - 5:30 p.m.
Phone
Fax
270-338-8139