Single-Incision Robotic Surgery
In May 2012, Owensboro Health Regional Hospital became the fourth hospital in Kentucky—and the first in the Tri-State area—to perform a single-incision robotic surgery, a procedure that could hold great promise for future surgical patients.
Why This Surgery Matters
Today, most gallbladder removals (known medically as Cholecystectomy) are performed with a Laparoscope, a thin, lighted tube that lets the doctor see inside your belly. This technique usually requires four incisions. Generally, Laparoscopic Surgery has been an improvement over traditional open surgery and has meant less scarring, blood loss and recovery time for patients.
In recent years, some surgeons have been able to perform Laparoscopic Surgery with just one incision. However, it is a difficult procedure to perform, and only a few patients meet the necessary criteria to be eligible for the surgery.
Now, with the da Vinci® surgical system, surgeons at Owensboro Health can use robotic technology to perform a single-incision gallbladder removal.
---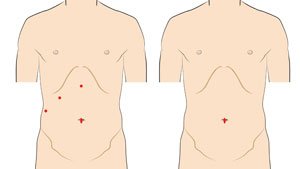 Multi-Incision Laparoscopy (left) vs Single-Incision Robotic Surgery (right)
---
There are several potential benefits for patients, including:
Robotic Single-Incision Surgery requires just one incision to be made through the belly button. Therefore, most patients can expect minimal scarring that is hardly visible.
The procedure should be available to a wider range of patients.
Robotic surgery is a minimally-invasive technique, which potentially means less pain, blood loss and recovery time.
The average time to remove a gallbladder with single-site robotics is about 70 minutes.
Since every patient is different, outcomes cannot be guaranteed. Ask your doctor if robotic single-incision surgery is right for you.
How The Surgery Works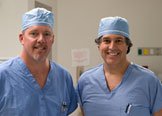 Dr. Brad Cornell and Dr.
Alan Mullins worked to
bring single-incision
robotic surgery to the
Tri-State area.
While a da Vinci surgery is often called "robotic," surgeons completely control the procedure while seated at a control panel and looking through a 3D viewer. The surgeon's hand movements operate da Vinci's tiny instruments. 
For single-incision surgery, the da Vinci system is equipped with flexible and curved instruments that make it possible to perform the procedure through just one opening, or port. The system also has a comfortable design to reduce physician fatigue.
For help in getting started you can also use our Find A Provider directory to find a surgeon or call 877-888-6647.