Brayden Morris is #BraydenBrave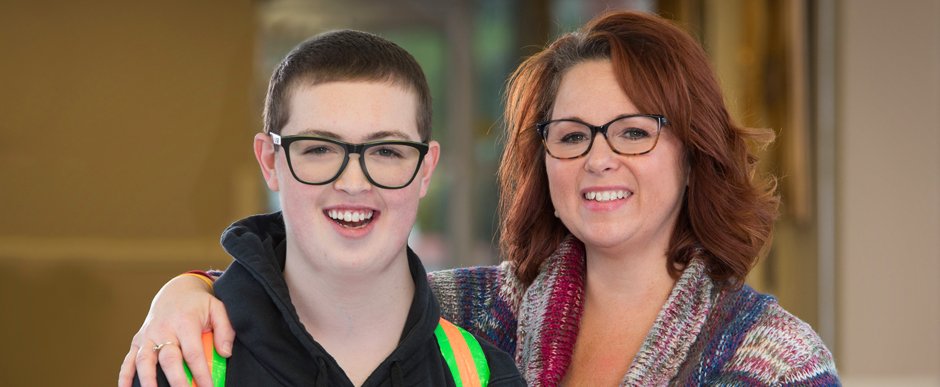 Brayden Morris behaves like any other 16-year-old. He complains about school. He is excited about the potential for snow. He checks his phone every now and then to see who's texting. He rolls his eyes a little when his mom, Melissa Morris, leans in for a hug.
Brayden is like any other kid, until his IV pump beeps and he makes eye contact with his mom. Mom nods her head in a way that would be almost indistinguishable to an outsider — they have a language all their own.
Brayden was born with hypoplastic left heart syndrome, so doctor visits and hospital stays are routine. Today, all is well — but in June 2018, that was not the case.
"He was with his grandmother," Melissa said. "They were on their way to Taco Bell, and when they got there she said something to him and he didn't respond. She looked at him and knew something was wrong."
Immediately, Brayden's grandmother rushed him to the Owensboro Health Muhlenberg Community Hospital (OHMCH) Emergency Room (ER), where they met additional family.
Melissa, a critical care nurse at Owensboro Health Regional Hospital, was working when she received the call that no mother would ever want to receive. She remained on the phone and talked to nurses and doctors as they assessed the situation.
Dr. Andrew Pierce
Impressive care
Dr. Andrew Pierce, the ER physician on call that day, quickly realized Brayden suffered a stroke, and he credits Brayden's parents for recognizing the signs and symptoms first.
"Pediatric strokes are very rare," Dr. Pierce pointed out — and that's even more true for rural hospitals. For the long-term prospect of recovery, quick and effective treatment is key, and according to Dr. Pierce, OHMCH was on point.
"Dr. Pierce listened to me and immediately ordered blood work and a CT," Melissa said. "I believe he saved Brayden — because it was bad. Even Brayden's doctors in Louisville were impressed."
"It's definitely not something that happens in Muhlenberg County every day," Dr. Pierce recalled. "But we were prepared, and we did the best we could do for Brayden — as we do for all of our patients."
"I was there that day," added Kim Lear, nurse supervisor. "It was truly a miracle."
When Brayden recalls that day, he remembers exactly what you would expect a teenage boy to remember.
"I remember Dr. Pierce picking up my arm and letting go and it would just drop, and then he did my leg," Brayden said. "That was funny."
"I guess that would be weird to watch," Melissa agreed with a laugh.
Solidarity and smiles
This attitude is who they are — positive through everything they face and facing it all as a family. Those texts Brayden got were from his dad, Bennie, and his younger brother, Bryson. They were just checking in after his long day of therapy.
The community has rallied behind the family, as well, coining the hashtag #BraydenBrave to accompany multiple fundraisers and to grace the front and back of matching T-shirts as Brayden awaits a heart transplant.
Brayden was voted Freshman of the Year at school last year. When asked why, he said, "Because I'm always happy...always smiling."
He looks at his mom one more time. She smiles and gives him a different kind of nod — this one is distinguishable. She's saying, "I love you." And this time, there's no eye rolling.