Be Safe. Call. Don't Fall.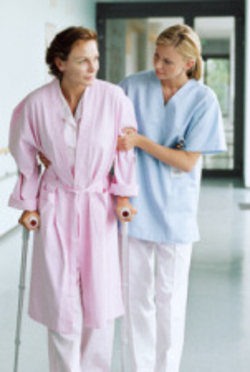 As you start to feel better, you may wonder why these steps are still needed. Please trust us. Your safety is our priority.
Get Our Help To Get Up
Your chances of falling are higher in a hospital.
You may feel dizzy or weak.
You may have medical equipment attached to you.
Your room may be darker or brighter than you are used to.
Your bed may be narrower, higher or lower than the one you usually sleep in.
Making Your Stay Safe & Comfortable
We will answer your call light as soon as possible.
We will ask often if you want to use the toilet, change position, or need pain relief.
We will tell you if your medication and condition may make you more likely to fall.
We will explain your needs to staff on every shift.
Help Us Keep You Safe
When you net to get out of bed or go to the toilet practice the following:
Use your call button.
Please don't get up until someone comes.
Accept our help, even if you think you can do things by yourself.
Get our help to get up.
Your chances of falling are higher in a hospital.
Let us know how often you usually go to the bathroom.
Tell staff whether you have fallen before.
Wear non-skid slippers, non-skid socks or your own shoes.
Extra Hands
To keep you safe, family and friends should: 
Stay with you when possible.
Let staff know when they leave the room.
Keep the room free of clutter.