Why Work at Owensboro Health
Every team member at Owensboro Health plays a vital role in fulfilling the goals of our mission and values, core commitments and dedication to the patient. Every team member contributes in helping Owensboro Health provide excellent care. And every team member deserves recognition and applause for making Owensboro Health a great place to work. So that's why we celebrate. A lot!
Visit our Careers Website to search new opportunities.
Search All Career Opportunities
Join Our Talent Community
Not sure you're ready to apply right now or can't find what you're looking for? Click here to submit your resume and opt in to receive job alerts about future opportunities.
*Please note that the submission of your resume does not constitute an application for employment.
When you work at Owensboro Health, you may pursue your passion while contributing to your neighbors' well-being.
Join us to find meaning and purpose as a member of a vibrant, growing organization that your community relies on.
Competitive Benefits
We understand providing quality compassionate healthcare is hard work, and hard work deserves recognition. Owensboro Health team members actively listen to and partner with those we serve – all while maintaining focus on quality, patient safety, healthy environments and teamwork. It's not just our job; it's our calling and our passion. Owensboro Health offers a full suite of comprehensive benefits. See benefit details below.
Your Health & Wellness Benefits
Health Plans
Dental Plans
Vision Plan
Prescription Plan
Life Insurance Benefits (Basic Life Insurance, Dependent Life Insurance, Supplemental Life Insurance, Identify Theft Assistance)
Mental Health Benefits (Pastoral Care, Employee Assistance Program - EAP)
Disability Benefits (Short-Term Disability, Long-Term Disability, Critical Illness, Accident Insurance, Hospital Indemnity, Worker's Compensation)
Wellness Benefits (Fitness Membership, Action Center, Smoking Cessation Benefits, Wellness Incentive Program, Weight Management/Nutrition Programs, Quarterly 5K Walk/Run, Harvest Market, Employee Health Services)
Your Financial Wellness
403(b) Retirement Plan
Health Savings Account (HSA)
Flexible Spending Account (FSA)
Health Reimbursement Account (HRA)
Tuition Assistance
Food Service Discount
Team Member and Volunteer Discount Program (Partnership of Caring Business)
College-bound Savings Plan
Team Member Payment Plan
Team Member Payroll Deduction
H.O.P.E. Fund (Helping Our People in Emergencies)
Paid Time Off
Owensboro Health strives to provide a healthy work-life balance and believes it is important to take time away from work for rest and relaxation. We focus on service to patients, customers and co-workers by anticipating their needs, thoughtfully meeting those needs and continually improving the quality of everything we do. Allowing more flexibility in how team members can take time away from work supports our service delivery.
Owensboro Health must be competitive to recruit and retain key talent within the health care industry. Therefore, our Paid Time Off Policy is designed to align with industry standards.
Accrue PTO per pay
Bereavement
Jury Duty
Contact Us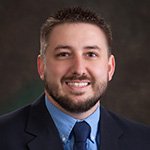 Want to learn more about joining our team? I invite you to email your questions to our recruitment team at RecTeam@OwensboroHealth.org. Owensboro Health is an Equal Opportunity Employer.
Daniel Blandford, Human Resources Supervisor (right)