Lung Cancer
If you need lung cancer services, you'll find the best care in the western Kentucky region at Owensboro Health. You gain access to the most advanced treatments available, delivered sooner after your diagnosis than at many large medical centers. Stay close to home while benefiting from nationally renowned expertise and personal attention that help you live longer and healthier.
Lung Cancer Screening
If you smoke or used to smoke, you may qualify for a Low-Dose CT lung cancer screening that can catch cancer before you experience symptoms. That means you can get treatment as early as possible and improve your odds of survival.
Learn more about Lung Cancer Screening.
Lung Cancer Nurse Navigator
At Owensboro Health, a Nurse Navigator guides you from diagnosis to survivorship. Your navigator can help you:
Learn more about your lung cancer and understand treatment options
Communicate with your Doctor, Surgeon and other Care Providers
Make medical appointments
Find community support and resources
Lean on your navigator for answers to your questions and direction throughout your treatment journey, so you can focus on getting better.
Minimally Invasive Lung Cancer Surgery
If surgery is your best treatment option for lung cancer, you may qualify for a procedure that uses a minimally invasive technique. You'll experience less pain and scarring and a quicker recovery when you receive one of these minimally invasive surgeries.
Robot-Assisted Lobectomy
During a robot-assisted Lobectomy, a surgeon controls mechanical arms that create tiny incisions in your side to remove the cancerous part of your lung. The robot's wrists rotate farther and move more precisely than a surgeon's hands, which means you're more likely to experience the best possible outcome of your procedure. Entrust your surgical care to the experts: Owensboro Health has performed robot-assisted Lobectomies longer than anyone else in our region and has trained surgeons from across the country in the operation.
Video-Assisted Thoracic Surgery (VATS)
In video-assisted Thoracic Surgery, a surgeon inserts a miniature camera and thin surgical instruments through tiny incisions into your chest. The camera provides images that guide your surgeon in removing cancerous tissue or determining how far cancer has spread.
Keeping You Well After Surgery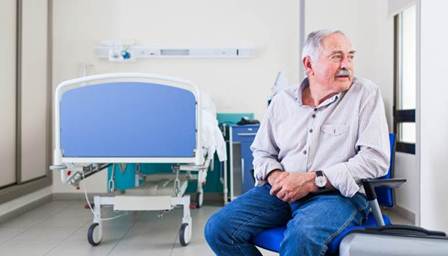 On average, lung cancer patients who get surgery at Owensboro Health stay in the hospital for three days—almost two fewer days than the national average. And our lung surgery patients need intensive care in fewer than 5 percent of cases—much less often than average at U.S. hospitals.
Radiation Therapy
In addition to or instead of surgery, your doctor may recommend radiation therapy. Treat lung tumors and minimize your healthy tissue's exposure to radiation with one of these precise, targeted radiation therapy techniques:
Brachytherapy – Implants a small, radioactive pellet into cancerous tissue
Intensity-modulated Radiation Therapy (IMRT) – Delivers radiation that matches the shape of your tumor
Stereotactic Body Radiotherapy (SBRT) – Provides high doses of radiation and requires only a few treatments
Chemotherapy
Chemotherapy can destroy cancer cells that have spread outside your lungs. If you need chemotherapy, you'll likely receive it through intravenous (IV) injections over multiple treatment sessions.