Water Group Exercise Classes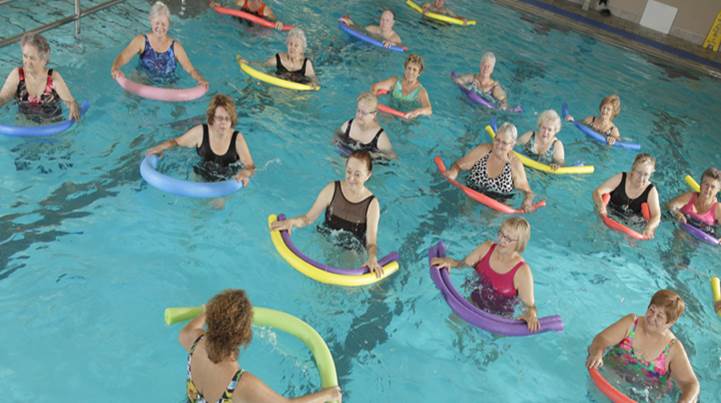 Get in shape, have fun and build friendships in a variety of water group exercise classes at Healthpark. Our instructors, who are certified by the Aquatic Exercise Association, will help you meet your fitness goals through safe and effective activities.
Whether you need gentle or high-energy exercise, you'll find a water class that suits you!
*Please adhere to Healthpark dress code for class - only one piece suits suitable for exercising.
* All classes are 40-50 minutes except for Masters Swim and Aqua ZUMBA which are 60 minutes.
Schedule and Reservations
View the monthly schedule. Select "Aquatic Group Ex" in the Categories drop down to see only aquatics classes.
Find out how to reserve your spot online.
Class Descriptions
Aqua Cardio Crazy - This class combines cardio moves to get your heart pumping with strength moves to make you strong. Fast paced class to keep your heart rate consistently in your training zone to maximize calorie burning. Beginners welcome. (Moderate intensity)
Aqua Cardio Intensity - Get ready to move! This class will emphasize cardiovascular conditioning, toning, strengthening, and flexibility. (Moderate to high intensity)
Aqua Basics - Basic total body aquatic workout.
Aqua Zumba (Z20) - Zumba in the water! Refreshing and fun aquatic workout that is easy on the joints without sacrificing the intensity of a traditional zumba class. (Moderate intensity)
Arthriticise - Exercise program that is geared to individuals who have arthritis. This program was originally created by the Arthritis Foundation. Emphasis is on controlled, gentle movements to increase flexibility, strength, and balance while decreasing pain. Varying Levels: Level 1 Low intensity for beginners Level 2 Moderate to high intensity.
Evening (or Morning) Waves - This is a varied aquatic exercise program with emphasis on cardiovascular conditioning, toning, strengthening and flexibility. This class uses a variety of equipment including aqua bells, noodles, bands, and aqua gloves. Pilates stretches are also introduced. This class is designed for those who want to work hard! (moderate to high intensity)
H2O Jog-Strong – A class mixing aqua jogging and movements for building strength using water resistance as well as other fitness equipment in the pool.
H20 Stretch and Tone - Wake up the right way! 30 minute class for toning, stretching and core work. Great for people with arthritis, fibromyalgia or use it as a warm-up for the Morning Waves class. Variety of equipment will be utilized with soothing music. (Moderate intensity)
Hydro Waves - Make a wave in this total body revved up workout!
Physical Therapy - Pool is utilized by the physical therapy department and their patients. Pool will be closed to member use during this time.
Pure Core Aqua – This class combines elements of ballet, pilates, and movements to stretch, tone, and improve balance.
Stable, Strong, & Stretch – This class utilizes equipment in the water to develop greater strength, stability, and flexibility.
Water Moves - A combination of deep and shallow water workouts that use basic aquatic moves in a new way. This workout challenges participants to use what they know in a new and fun way!
Watercise with Equipment – This water exercise class uses a variety of exercise tools to help you get the most out of your time in the water.